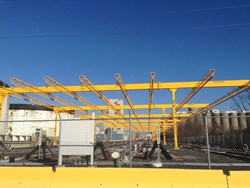 Albany, New York (PRWEB) January 10, 2014
A large company in Albany, New York came to Fall Protection Systems wanting to provide fall protection for their employees. They needed a custom solution and they were looking to cover 8 tracks that contain hopper and tanker cars. FPS custom engineered a system that not only met all of their needs, but one that was the most effective and efficient solution in terms of cost and employee access. This is the largest turnkey project that FPS has ever taken from design to completion.
Project Highlights:
1. Time frame: 5 months from design to completion.
2. There is 4,124 feet of linear truss coverage.
3. The system covers a total of 71 rail cars.
4. In order to make the system more efficient and cost effect the design was custom engineered and cut from 60 to 21 columns, with the largest span at 118 feet. These large spans were critical to the job and are something that only FPS can provide.
5. Unique factors included working around piping, and moving power lines.
6. Over 400,000 lbs of steel was used.
The result of the project was the largest system that FPS has ever designed and installed. Fall Protection Systems was able to provide a cost effective, custom solution that fit the client's needs and kept their employees safe proving that they are the number one provider of kit and custom fall protection solutions.