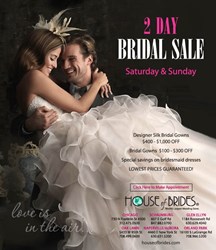 Industry Consultant Dale Buziecki reasons, "Brides are more plugged-in than ever. Using a multi-tiered plan means connecting with customers on new levels."
Glen Ellyn, Illinois (PRWEB) January 08, 2014
House of Brides hosts its 2-Day Bridal Super Sale Saturday, January 11th and Sunday, January 12th. The sale is available at all 6 salons and features savings on wedding and bridesmaid dresses.
The retailer is reaching new and current customers by utilizing multiple advertising outlets. Industry Consultant Dale Buziecki reasons, "Brides are more plugged-in than ever. Using a multi-tiered plan means connecting with customers on new levels."
The retailer has announced the sale Monday with radio commercials during the morning drive time on Clear Channel's station, 103.5 KISS FM. The commercials will run through the week in the morning and afternoon drives.
The retailer has found consistent success in reaching customers using a combination of email blasts, text messaging and automated phone calls. These outlets allow the wedding company to keep customers informed of upcoming events and special promotions.
Also, the retailer uses its website, houseofbrides.com to advertise the sale. Ads are featured on the Home page's slideshow and on the Store Promotions page. Highlights of the sale are posted in the ticker located on the Home page.
Savings during the sale include $100.00 - $300.00 off bridal dresses. Designer Silk gowns are $400.00 - $1,000.00 off. Special savings are also available on Diva wedding gowns in sizes 18 – 32.
Bridesmaid dresses will have special savings as well. Salons carry over 700 different bridesmaid samples available in an array of colors. Most styles are orderable in adult, junior and women's sizes.
The Bridal Super Sale is Saturday, January 11th and Sunday, January 12th. Appointments are suggested.
Salons are located Chicago, Schaumburg, Glen Ellyn, Oak Lawn, Naperville/ Aurora and the new wedding super store in Orland Park.
To make an appointment online, customers can click Appointments on the website. Or customers can visit Locations & Hours to find the most convenient salon.
About House of Brides:
House of Brides established its first brick-and-mortar store in 1929 and has since grown to 11 Chicagoland stores and global E-Commerce website, http://www.houseofbrides.com. Millions of brides and their wedding parties visit the salons and global website for over 50,000 wedding and special event products.