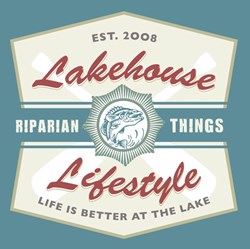 'We are excited to meet our customers at the Milwaukee Boat Show,' says Lakehouse Lifestyle founder Brian Cooney. 'We share their passion for being on, in and around the water, so we've curated a collection of products that we think they'll love.'
Whitewater, WI (PRWEB) January 09, 2014
Fans of lake life can check out the selection of unique and expertly crafted lake house décor, personalized lake signs and knickknacks offered by Lakehouse Lifestyle LLC in Booth 116 at the Milwaukee Boat Show, January 17-19 and 22-26 at the Expo Center at the Wisconsin State Fair Park.
It's an excellent chance for those who love life on the water to see up close the detail that goes into every custom-made lake map and to find the games, gear and home accessories to outfit their boat, lake house or cabin.
"We are excited to meet our customers at the Milwaukee Boat Show," says Lakehouse Lifestyle founder Brian Cooney. "We share their passion for being on, in and around the water, so we've curated a collection of products that we think they'll love."
The Milwaukee Boat Show is Wisconsin's largest boating exposition, with more than 300 boats from more than 75 manufacturers, including motor yachts, runabouts, aluminum boats, pro style fishing rigs, pontoon boats and cruisers. Highlights include the Swampmaster's Live Alligator Show, HO Sports' Tube Truckload Sale, the USS Wisconsin nuclear sub on display, the Key West Crabshack, Wisconsin Scale Boats, antique and classic boats, fishing seminars and more. Details can be found at ShowSpan.com/MBS.
Lakehouse Lifestyle is best known for its carved birch lake maps, which are laser cut to provide an accurate three-dimensional representation of any lake chosen by a Lakehouse Lifestyle customer. The company also is known for its vintage signs customized with a family name and lake house location. All products are made in America.
Lakehouse Lifestyle
Lakehouse Lifestyle has been offering their many loyal customers handcrafted, American-made lake gifts and lake decor since 2008. All Lakehouse Lifestyle products are created by artists who are skilled in their trade and who take great pride in the quality, construction and workmanship of their creations. Lakehouse Lifestyle owner Brian Cooney has been a lake dweller for 30 years, so he understands the love that lake house owners have for these retreats and strives to provide products that are not only fun and practical, but that will evoke memories of lazy summer days spent lakeside. As they always say, "Life is better at the lake." For more information on Lakehouse Lifestyle, please visit http://www.lakehouselifestyle.com.