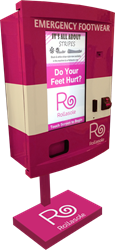 We are delighted to be fulfilling the demand for our cousins in the US and excited about working with the team at the Globes and L'Oreal for the fourth year.
Las Vegas, NV (PRWEB) January 10, 2014
British shoe designer Rollasole is pleased to announce the launch of their first outdoor vending machine on the Las Vegas Strip – increasing their presence in the party scene in the US.
The new machine is located on the strip outside of Fashion Show Mall. This will be Rollasole's 5th machine after recently launching inside Body English Nightclub at the Hard Rock Hotel and Casino in addition to another machine located inside Fashion Show Mall.
The original roll-up shoe, Rollasole launched their first two machine locations inside the Grand Canal Shoppes at the Venetian in 2012 and have been expanding ever since. You can also find Rollasole shoes inside every hotel room's mini bar in Nobu Hotel at Caesars Palace and in the store Essentials at MGM in Las Vegas.
Rollasole is the perfect solution to a broken heel, party-hard feet or simply a more elegant way to make your way home! Each pair rolls up to fit snug in a purse and includes a compact bag to carry heels home in. They offer a variety of different styles, sizes and colors and are sold online at USA.Rollasole.com and within their signature vending machines in Las Vegas and Los Angeles. Their shoe vending machines also include an LCD screen where they sell advertising space.
Rollasole shoe vending machines have been the saviour of many celebrity feet at the Golden Globe Awards for the past three years in collaboration with L'Oreal Cosmetics and will be returning to the Golden Globes in January 2014.
Managing Director of Rollasole, Matt Horan, said: "We are delighted to be fulfilling the demand for our cousins in the US and excited about working with the team at the Globes and L'Oreal for the fourth year. We have recently re-branded with our campaign 'Let the Good Times Roll,' so this is perfect timing for Las Vegas and the Globes."
Rollasole also offers shoe solutions for bachelorette parties, weddings and corporate functions. #letthegoodtimesroll
For further information, imagery, interviews or samples please contact the Rollasole press office:
E: infousa(at)rollasole(dot)com
Office: 702.944.9513
Twitter/Facebook/Instagram/Pinterest: @RollasoleUSA
http://www.usa.rollasole.com