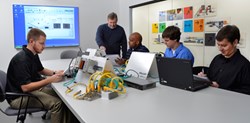 Florence, KY (PRWEB) January 10, 2014
Balluff now offers new performance-based training classes for Ethernet, RFID, and DeviceNet.
Balluff's goal with their new hands-on training is to prepare the customer for tasks he/she will actually need to perform on the job. The training has hands-on exercises at the end of each lesson to measure the lesson's learning objectives.
Balluff's DeviceNet course:
This course is designed to prepare someone to commission devices, add or replace devices on a DeviceNet network, map the devices, and access the data from the devices in a controller. It discusses the basic operating principles of DeviceNet with specific tips on troubleshooting the network.
Balluff's RFID architecture course:
This course is designed to prepare someone to build a solution to a given RFID application. The first part of the class explains the fundamentals of RFID. The second part of the class emphasizes using specific tools to build the correct solution. The final project in the class is a specific RFID application. Participants will use all of the tools and concepts they have learned to build a solution ready for presentations, including a Visio graphical depiction.
Balluff's Ethernet course:
This course is designed to take the learner through the entire process of building an ethernet network from the ground up. The intent is to raise and address questions at each stage in the building process so that there is an immediate understanding of how this information can be applied in a real-world setting. Unlike other courses that are mostly theoretical, this course will be characterized by hands-on learning.
Balluff's DeviceNet Analyzer course:
This course will enable someone to use the DeviceNet Analyzer to troubleshoot a DeviceNet network.
Balluff also offers custom training, where the modules are modified to integrate customer specific standards, programs, and applications. Balluff's training expert will build a course specifically for the customer and integrate HMI screens, ladder logic, naming conventions, and other specific ways that customer uses the technology. After attending a customized course, employees can walk out of the classroom and onto the plant floor ready to apply new skills immediately.
To learn more about Balluff's new training program, visit:
http://www.balluff.com/balluff/MUS/en/service/Training.jsp.
Download these high res images on Flickr.