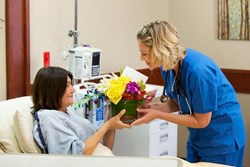 Patient care is the most important part of the Victory difference. We strive to ensure each patient is met with an unrivaled first class experience. - Robert Helms, Chairman and CEO of Victory Healthcare
Houston, TX (PRWEB) January 09, 2014
Victory Healthcare starts 2014 with record breaking patient satisfaction scores received by each of their eight Texas hospitals and boasted a less than one percent infection rate for all surgeries across the health system. Out of the over 5,690 patient satisfaction surveys completed, all hospitals ranked at 97% or above, with many locations scoring 100% for the 2013 year.
"Patient care is the most important part of the Victory difference. We strive to ensure each patient is met with an unrivaled first class experience," says Robert Helms, Chairman and CEO of Victory Healthcare. "Our mission is to exceed the expectations of our patients and their families with one to one patient care, leading edge technology and world class physicians all within an environment designed for comfort."
"While we strive for a zero percent infection rate, we are proud of the care we deliver and believe these survey results are a testament to our incredibly devoted staff and our highly skilled physician partners," said Michael Urbach, President and Chief Operating Officer. "We are relentless in our pursuit of excellence and will continue our mission to ensure each patient receives the greatest care possible."
Victory Medical Center Craig Ranch, Houston, East Houston and Beaumont all received patient satisfaction scores of 100%. These were closely followed by Victory Medical Center Mid Cities and Victory Medical Center Southcross at 99%; Victory Medical Center Landmark at 98% and Victory Medical Center Plano at 97%.
About Victory Healthcare
Based in The Woodlands, Texas, privately owned Victory Healthcare is creating the standard in surgical care through its growing network of specialized surgical hospitals, training and education centers, and the only privately held tissue bank in the state of Texas. Our surgeons are the most highly trained and respected physicians in their fields, committed to providing revolutionary technology and minimally invasive treatment techniques. We create a first class experience for our patients in our state-of-the-art facilities that include concierge services, a one-to-one nurse to patient ratio, and personalized service in an environment designed to promote comfort and healing. Victory Healthcare partners with physicians to create an exceptional surgical experience for our patients, their families, and our surgeons. Learn more about the Victory Difference – a dedication to healing through education, technology and first-class care - at victory-healthcare.com or follow us on Facebook.