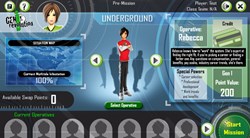 These games represent the future of personal finance education: real-world lessons on innovative platforms that young people enjoy.
(PRWEB) January 09, 2014
Ask a parent or educator: what's the most effective way to get your kids to pay attention to what you're teaching? Chances are, they'll tell you the best way to engage a generation of digital natives is through the technology they've grown up with. The Council for Economic Education (CEE), in collaboration with H&R Block Dollars & Sense, introduces Gen i: Murktide Invasion and Gen i: Beyond the Mission, two new interactive games in the free Gen i Revolution suite. Both new games, as well as the original Gen i Revolution, now incorporate Facebook functionality and are available for tablet play, making it possible for students to learn anytime, anywhere. All games are also accessible on a desktop computer.
"Students today are constantly plugged in, using mobile, digital and social media for nearly every aspect of their lives," said Nan J. Morrison, chief executive officer and president of CEE. "Bringing Gen i Revolution to these new outlets is a fantastic way to increase students' engagement with investing concepts, and help them recognize how savings and investing can impact the decisions they make every day."
Available for play on the Web and as a Facebook application, Murktide Invasion is designed primarily for students in grades nine to 12, although it can be enjoyed by users of all ages. The game challenges players to put their investing knowledge to the test, going head-to-head with the "Murktide," a network of double agents spreading false information about finance across the country. Players must use strategic thinking to beat back the Murktide in key regions and win control of the U.S. map.
Beyond the Mission is an interactive graphic novel that puts its players' financial skills to the test through a series of six missions. During each mission, the player must advise a contact on a financial matter, earning a badge if he or she gives sound advice. For each mission, there's a story line and a set of decision points. The player must make the best choice, based on advice from two "shadowy" secret agent operatives, one of whom is a double agent working for the Murktide. The object of the game is to accomplish the mission and identify the double agent. Like Murktide Invasion, it is also available for play on the Web and as a Facebook application.
"Murktide Invasion and Beyond the Mission represent the future of personal finance education: real-world lessons on innovative platforms that young people enjoy," said Scott Gamm, family finance advisor for H&R Block Dollars & Sense. "When you're just starting to learn financial concepts, it can feel overwhelming. The new games are a fun and memorable way to bring important topics to life."
As students become more skillful players, they learn about saving and investment strategies, increasing their real-world understanding of these concepts. Social media connectivity in Murktide Invasion, Beyond the Mission and Gen i Revolution encourages players to share their success. For example, students who successfully complete a challenge can post an award badge to their Facebook wall. And with the Gen i Revolution suite's tablet compatibility, it's easy for on-the-go teens to squeeze playing time into their busy schedules.
"Our teachers are looking forward to using the games with their classes," said William C. Wood, professor of economics at James Madison University (JMU), who previewed the games at JMU's summer personal finance institute for teachers. "Beyond the Mission takes students quickly into the role of the secret operatives who help people make good decisions on personal finance and consumer economics. Murktide Invasion has great content in personal finance, and it dresses it up in the form of a strategy game that motivates students to test their skills against a computerized opponent."
For teachers looking to incorporate Gen i Revolution into the classroom, CEE also offers a companion guide, Learning, Earning and Investing, with lessons aligned with the Common Core State Standards.
Visit http://www.genirevolution.org to play the full suite of games on a desktop computer or tablet device.
Visit http://www.facebook.com/genirevolution to play Gen i Revolution and the mini-games Murktide Invasion and Beyond the Mission on Facebook.
The full suite of Gen i Revolution games is funded in part by H&R Block Dollars & Sense, an educational cause initiative helping to increase teens' financial literacy through donated personal finance curricula, scholarships, education resources and tips on personal finance best practices.
About the Council for Economic Education
The Council for Economic Education is the leading organization in the United States that focuses on the economic and financial education of students from kindergarten through high school. CEE trains educators to teach young people the fourth "R"—a real-world understanding of economics and personal finance—so that they will be able to make informed and responsible choices throughout their lives as consumers, savers, investors, citizens and participants in the global economy. Each year CEE's programs reach more than 55,000 teachers and approximately 5 million students.
About H&R Block Dollars & Sense
Funded by H&R Block Inc., one of the world's largest tax services providers, H&R Block Dollars & Sense provides personal finance curriculum to high schools and scholarships to students nationwide. Since 2009, H&R Block Dollars & Sense has donated more than $3 million in grants and scholarships. For more information, visit hrblockdollarsandsense.com.