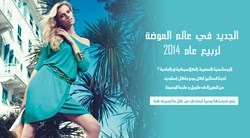 OASAP today announced the launch of its dual language site (http://ar.oasap.com/).
New York (PRWEB) January 11, 2014
OASAP, a leading women fashion online store, today announced the launch of its dual language site (http://ar.oasap.com/), in the first public event of its trade mission to the Arab region. The site is now available to all online shoppers across Middle East area in English and Arabic.
OASAP Arabic has acquired a reputation in the online shopping industry for its fast and convenient services. The online retailer offers customers a variety of services such as providing a 30-day return policy, ensuring secure online payment methods and cash-on-delivery. Since its establishment barely a year and half ago, OASAP has consistently worked on improving its shopping experience for customers. These initiatives include launching the Android and iOS app to provide a richer mobile shopping experience whilst improving on delivery service with the promise of 24-hour delivery. As demand for their services continues to grow, OASAP has incorporated dual languages to the site.
Mr. Montee, Marketing and Operating Director of OASAP Arabic said, "At OASAP, our goal is to constantly provide online shoppers with the simplest and most convenient access to on-trend and affordable fashion. We have translated over 25,000 product descriptions as well as product categories, Terms of Services, Frequently Asked Questions, Ordering Page and more to go."
Montee introduced, "With the newly-added language options, shoppers are able to navigate over 30 catalogs and 30,000 products across women apparel, women shoes, fashion accessories and beauty categories in their preferred language. This will definitely enhance our customer shopping experience; at the same time providing us with a great opportunity to reach out to more potential markets."
About OASAP
OASAP IS: A High-street Fashion Online store
OASAP Likes to: Deliver fashion & love!
OASAP is a global online store dedicated to high-street fashion by offering various kinds of women's apparel, bags, shoes, jewelers, accessories, beauty products, etc.
OASAP was founded in late 2011, and has already grown to be the leader of high fashion online stores. It keeps updating products at a high rate of more than 300 new products each week. The products mentioned before definitely belong to the latest fashion trend.