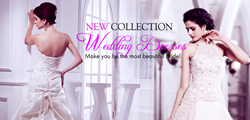 (PRWEB) January 09, 2014
Owing to years of hard work and the support from worldwide customers, Fairyin.com, the popular wedding dress online supplier, has developed very fast in the recent years. Recently, the company has announced that a French channel is available at its online shop. Additionally, it has announced a promotion of prom dresses.
All the discounted prom dresses featured with unique designs, elegant looks and delicate craftsmanship. At the moment, they are available at greatly discounted prices, up to 85% off. For example, one of the company's prom gowns, A-line One-shoulder Sweep Train Sweetheart Chiffon Prom Dress, was previously priced at $602, and it is provided at a new discounted price of $132.53.
"We are excited to add the French channel to our website and launch the special offer on our fashionable prom outfits. We want to show our thanks to all clients from home and abroad. Most of our prom dresses have great market performance and led to our fast growth in the past few months. I think the promotion will bring more benefits to ladies throughout the world," the CEO of the company says.
In addition, the company has nearly 500 different kinds of outfits in stock. All of them are ready to ship worldwide.
About Fairyin.com
Founded in 2008, Fairyin.com is one of the recognized leaders in women's dresses specializing in providing high-quality trendy dresses for all its clients around the world. The company has a group of designers who create elegant designs for customers all over the world.
To find more information about the company's products, readers can visit at: http://www.fairyin.com/fr/.
Facebook: http://www.facebook.com/Fairyin
Twitter: http://twitter.com/Fairyin