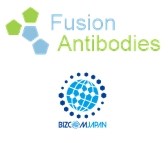 Fusion Antibodies look forward to working with BizCom Japan and expanding our services into the Japanese market.
Tokyo, Japan and Belfast, Northern Ireland (PRWEB UK) 13 January 2014
BizCom Japan Inc. has been engaged in sales and marketing of research reagents, services and equipment to the life science research market in Japan and consulting for innovative biotech companies in Japan as well as other countries, and has extensive experience in establishing various types of alliances with Japanese companies and public institutions. BizCom Japan, Inc. will use this experience and its sales and marketing expertise to exclusively market services and products of Fusion Antibodies in Japan.
About BizCom Japan, Inc.
BizCom Japan, Inc. is a trading and consulting company based in Tokyo, Japan. From its foundation in 1996, it has been collaborate with various innovative companies in biotechnology, pharmaceutical, diagnostic, cosmetic and medical device industries. In addition to providing research reagents, services and equipment to the life science research market, BizCom Japan actively intermediates in- and out-licensing of various cutting-edge technologies for its collaborators. Through strategic alliances with its collaborators, the Company aims to extend its reach around the world. More information is available at http://www.bizcomjapan.com.
About Fusion Antibodies
Fusion Antibodies; a UK based life science company, with innovative technologies and world-class expert services for antibody drug discovery, are specialists in production of High Quality Humanized Monoclonal Antibodies and Antibody Engineering Projects. With 12+ years of experience in the medical research industry, including two Antibodies in pre-clinical trials, Fusion Antibodies have extensive experience in accelerating therapeutic drug research towards the clinic.
Fusion Antibodies has the knowledge and expertise to build and deliver a bespoke package of the services you need to achieve outstanding results. They provide Royalty Free Antibody Humanization of Monoclonal Antibodies and using their next generation in silico CDRx™ technology, they have modernized the traditional CDR grafting technique. Fully humanized monoclonal antibodies are an essential step in the progression of therapeutic drugs to the clinic and the in-house expertise at Fusion Antibodies ensures its success.
Visit their website at http://www.fusionantibodies.com to find out more.
All trademarks are the property of their respective owners.