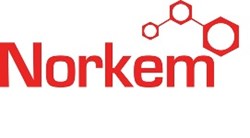 Knutsford,Cheshire (PRWEB UK) 11 January 2014
httpAlan Nicholson, Group Managing Director of Norkem made the following statement about the Groups performance including announcements of new products for 2014.
"Group sales in 2013 are expected to be around €170 million, with most of our major products contributing to this further improvement. Our aim always is to be the 'first choice supplier' and in most of our product range we have succeeded in this wish."
"We have continued to add new products to our range, including Calcined Magnesite and Betaine Hydrochloride. Additionally we have strengthened our position in our major products such as Zinc Oxide, Zinc Carbonate, Iodine, Iodine Salts and Copper Compounds. To further showcase our product range, this year we launched our new company website, providing global access to our full portfolio and services."
"We have continued with our strategy of expanding into different areas and these actions are now paying dividends with very solid performances from our branches in China, USA and Chile. They not only give us sales possibilities but also put us in touch with new supply sources in those regions. Our personnel in these offices are local people and are well equipped to ensure both our customers and suppliers receive rapid, efficient service for their needs."
"Closer to home, our European businesses are now seeing strong signs of recovery even in the areas where we were most affected by the downturn. We are confident that this trend will continue to the benefit of the Norkem Group in the UK, Holland and Spain."
"Given recent increased activities in the building industry we have also seen a resurgence of demand for our brick and clay additives, receiving new enquiries from Western Europe, USA, Russia and Australia, where our presence in this field is well established."
About Norkem
Norkem are a major global stockist, distributor and producer of high quality speciality and general chemicals.
Privately owned, Norkem was established in 1970. With a head office situated in the United Kingdom and sister offices located in The Netherlands, Spain, Chile, USA, Australia and China. They also have production facilities in the UK, Belgium, Spain and Australia.
For more information visit http://www.norkem.com