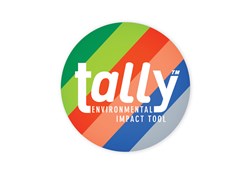 Philadelphia, PA (PRWEB) January 09, 2014
Tally™, a new Revit application for calculating the environmental impact of building materials during the design process, is available for free through Autodesk Labs and the Tally website. The free trial version expires on March 1, 2014.
Tally™ was launched at the Greenbuild conference in November 2013, where it captured the attention of architects, engineers, product manufacturers, and building professionals who are seeking an integrated and intuitive tool for understanding the environmental impact of materials on a building's overall ecological footprint.
Initial users have reported that Tally™ is easy to use and represents a marked decrease in the time required to conduct a whole building Life Cycle Assessment (LCA) than methods used previously.
Because the LCA process can be time and labor intensive, most are completed after construction and are performed by a trained practitioner. However, at any point during a building's development, designers need this data to address specific questions related to their material selections. Tally™ answers this need by allowing designers to link BIM elements and construction materials together with a robust, credible database, and generate a variety of reports. Tally™ reports speak to a range of questions asked during design, including where the largest environmental impacts reside within a design and how those impacts compare across material options and relative to operations-related energy consumption.
Tally™ facilitates the process of assigning discreet building materials and quantities such as those modeled without accurate volume and accessory materials (screws, sealants, finishes, etc.) that are not modeled at all, to provide a complete bill of goods. No other environmental assessment tools are capable of achieving this kind of inventory at the same resolution.
Interest in the full life cycle of buildings is mounting as new standards, such as the United States Green Building Council's LEED v4, reward project teams that utilize whole building LCA. Tally™ positions architects to meet this demand, and places the environmental impact of materials alongside factors of cost, energy, and performance, allowing architects to create beautiful, efficient, lasting buildings.
LEARN MORE
Those interested in learning more can visit the Tally website to watch video tutorials and to download the free version. A series of webinars detailing how to use this simple application are scheduled in January and February 2014. The first webinar will be held on Thursday, January 16, 2014 at 2:00 PM EST. Register for the webinar online at: https://attendee.gotowebinar.com/register/1568582335540932353.