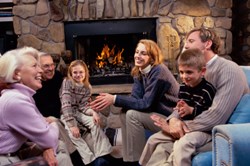 "Among all accidental injuries, fire and burns are the number five cause of death in children ages 14 and younger — in part because young children cannot recognize heat-related danger quickly enough to react appropriately." - Lisa Schwing, RN
Dayton, Ohio (PRWEB) January 13, 2014
Winter has been colder than ever this year which means many families are using their fireplace to add warmth to their home. A fireplace may be a nice asset to a home, but they can be very dangerous for children. While all fireplaces pose danger, there is an increasing number of injuries due to glass enclosed fireplaces. This glass can become extremely hot and cause severe burns to children.
"Among all accidental injuries, fire and burns are the number five cause of death in children ages 14 and younger — in part because young children cannot recognize heat-related danger quickly enough to react appropriately," says Lisa Schwing, trauma program manager at Dayton Children's Hospital. "Children's skin burns at lower temperatures and more deeply than that of older children and adults."
Injuries from glass fronted fireplaces can be irreversible so it is important to know all the facts about fireplace safety and take action to keep children safe. Here are a few simple precautions to take to keep children out of danger from the Hearth, Patio, and Barbeque Association (HPBA) and Dayton Children's Hospital.
•Always supervise children near an operating gas fireplace, stove, or insert. Even one that has been recently turned off.
•To prevent the child from turning on the appliance, install a switch lock.
•Keep the remote control out of the reach of children.
•Make sure everyone in your family, including guests, are aware that the glass panel of fireplaces, stoves, and inserts can be very hot.
•Wait for the appliance to cool completely before allowing anyone to go near it. The glass front panel may take as long as an hour to cool down.
•Be aware that other metal surfaces near the appliance, such as doorframes or grilles, may also get hot.
•Always read and follow the owner's manual and instructions.
•Explain to your child the risks of playing near a fire.
According to HPBA, if you have a preexisting fireplace, stove, or insert, there are three safety products that create a physical barrier between your child and the fireplace. Attachable safety screens, free standing safety gates, and free standing fireplace screens all help guard against child injury.
Certified fireplaces manufactured after January 1, 2015 will include a safety screen that must be installed. Currently, there are many ongoing tests to make sure the screens are effective at preventing injury.
Before gathering around your fireplace this winter check that it is properly outfitted with the correct safety product. Children may suffer serious, irreversible burns if the proper safety tips are not followed. Staying warm is important, but make sure you are taking the proper steps to ensure your child's safety before cozying up to the fireplace this winter.