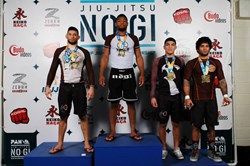 "He has already beaten most of the top Brown Belts in the World since getting his promotion so it makes sense to see how he fares against the best Black Belts."- Coach Julius Park
Columbia, MD (PRWEB) January 09, 2014
The brackets for the February 1st edition of the prestigious Copa Pódio de Jiu-jitsu, an Invitational Grappling event in Brazil, have been released.
Timothy-Michael Spriggs, an instructor at Howard County Martial Arts gym - Crazy 88 BJJ, will be competing in the event.
Spriggs, a resident of Columbia, MD, began his Brazilian Jiu-Jitsu training at the age 16 and is currently ranked as a Brown Belt. Despite only receiving his Brown Belt in June of 2013, Spriggs is considered one of the best up-and-coming prospects in the World - having recently gone undefeated at the Brown Belt Grand Prix at the World Jiu-Jitsu Expo. As a Purple Belt, Spriggs was 2x Pan-American Champion, No-Gi World Champion, and Abu Dhabi World Pro Champion, along with a multitude of Minor IBJJF titles.
Spriggs has been assigned to Grupo Verde where he will compete against:
Leonardo Nogueira - Black Belt World Champion
Travis Stevens - US Olympic Judo Team, Black Belt
Luiz Panza - Black Belt
Rico Bastos - Black Belt
Grupo Amarelo will consist of:
Rodolfo Vieira - Black Belt World Champion
Alexandre Souza - Black Belt
Alan Belcher - UFC Fighter
Leandro Lo - Black Belt World Champion
Faisal Alkitibe
The top 2 competitors of each Group will be moved out of each group and then enter a 4-person tournament to determine the Champion. Each competitor will therefore have a minimum of four matches.
Crazy 88 Coach, Julius Park states that "Timmy was a really good Purple Belt but has really jumped a level since receiving his Brown Belt. He has already beaten most of the top Brown Belts in the World since getting his promotion so it makes sense to see how he fares against the best Black Belts."
Crazy 88 Brazilian Jiu-Jitsu operates 3 training centers throughout the Maryland area. Classes are offered for adults as well as children, and include Mixed Martial Arts, Muay thai Kickboxing, as well as Brazilian Jiu-Jitsu and grappling. For more information, please visit http://www.Crazy88BJJ.com
Copa Podio de Jiu Jitsu will take place on February 1st in Rio De Janeiro, Brazil. The event will be streamed live. You can find more information on their social media page: https://www.facebook.com/copapodio.gppesados.