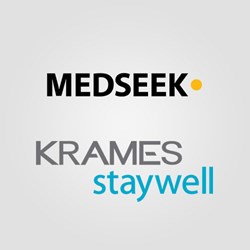 "Our combined technologies can equip patients with the knowledge and tools to improve and manage their health – a win for both healthcare organizations and families," states Dale Edwards.
Birmingham, AL (PRWEB) January 15, 2014
Krames StayWell and MEDSEEK, pioneers in healthcare consumer education and engagement, today announced plans to introduce the Digital Health Education Suite, a joint solution providing relevant health and wellness information. By incorporating the multi-media health content solutions of Krames StayWell into the MEDSEEK patient portal and CMS technology, hospitals can proactively deliver an engaging education experience that improves patient self-health management, leading to better outcomes and lower costs.
"Krames StayWell and MEDSEEK have worked together for years, but the timing of this new collaboration is perfect," said John George, chief growth officer, Krames StayWell. "With the evolution of Meaningful Use Stage 2 requirements and the need to better engage patients in their health, the role of an enterprise digital strategy and a patient portal is becoming increasingly more critical – especially for accountable care organizations. In this environment, leveraging the combined expertise of Krames StayWell and MEDSEEK makes sense for our mutual customers."
Dale Edwards, executive vice president, MEDSEEK, noted, "We are pleased to work with Krames StayWell to offer their health education and communication solutions in the MEDSEEK Convert and MEDSEEK Empower solutions. As two market leaders in the healthcare space, our combined technologies can equip patients with the knowledge and tools to improve and manage their health – a win for both healthcare organizations and families."
Starting today, healthcare organizations will be able to incorporate Krames StayWell content into their MEDSEEK Convert enterprise health content management systems and MEDSEEK Empower enterprise patient portals. For more information about the MEDSEEK solutions visit http://www.medseek.com.
About MEDSEEK
Since 1996, MEDSEEK has focused exclusively on building software to help hospitals and health systems virtually influence prospects and patients before and after a physical encounter. Today, the MEDSEEK Influence platform integrates web, mobile, social, predictive analytics and relationship management solutions to help organizations drive profitable volume, improve individual and population health, increase patient satisfaction and create lasting health-related loyalty. Birmingham, AL-based MEDSEEK is proud to serve over 200 customers representing over 1,000 hospitals including many of the top hospital systems in the United States and Canada.
About Krames StayWell
Krames StayWell, a leading health engagement solutions company, is redefining health engagement to drive positive consumer health decisions and behavior change. Leveraging decades of health care experience, clinical rigor and a deep understanding of the healthcare consumer, Krames StayWell's broad portfolio of health engagement solutions help its clients achieve their acquisition and retention, population health management, and patient and consumer education goals. Krames StayWell uniquely combines rich health content with extensive technology assets, advanced analytics, and robust, multi-channel deployment to reach consumers with the right message at the right time in the right format. For more information, visit kramesstaywell.com.