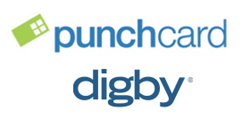 Punchcard can utilize a shopper's real-time behavior as they approach malls or other shopping locations in order to send tailored, timely incentives encouraging the shopper to visit nearby retail partner stores.
Pasadena, CA (PRWEB) January 13, 2014
Punchcard and Digby® today announced that Punchcard, a mobile shopping application that allows customers to earn personalized rewards everywhere they shop, has implemented and is currently using Digby's Localpoint platform to power Punchcard's location-based marketing capabilities. With Localpoint, Punchcard engages shoppers as they enter sponsored locations, driving traffic to nearby retail partner stores with personalized offers based on shopping history and current location.
Punchcard + Localpoint = High Value for Retailers and Increased Customer Loyalty
When customers shop at any of Punchcard's fifteen million retail partner locations, they simply (1) take a photo of their receipt with the Punchcard app; (2) start a virtual punch card for that retailer in the app; and (3) play a Spin and Win game to earn points and free rewards. Unlike similar shopping apps, the Punchcard mobile app works at over 15 million retailers nationwide and records shopper purchases down to the SKU level for millions of products, creating a precise buying history for each shopper's profile.
By adding Localpoint's location-based marketing capabilities to Punchcard's rich purchase history, Punchcard can utilize a shopper's real-time behavior as they approach malls or other shopping locations in order to send tailored, timely incentives encouraging the shopper to visit nearby retail partner stores. Punchcard is also using Localpoint Analytics to enable marketers to complete the marketing funnel from product awareness to purchase by tracking shopper visits and other key behavioral statistics at partner store locations.
"The integration of Digby's location-based marketing technology and push notification capabilities with our ubiquitous market strategy and existing offering is an industry first. More importantly, it provides a huge and tangible value to advertisers and retailers because every offer that is delivered to the customer has consumer purchase data intelligence behind it. Consumers earn rewards that they care about, and advertisers can put branded dollars in a consumer's pocket to incent them to shop," said Andy Steuer, founder and CEO. "Punchcard and Digby are changing the way retailers think of the basic loyalty program by leveraging location and customer transaction data to reward loyal customers."
"In today's retail reality, the vehicles in which retailers are communicating with their loyal customers are changing, but the end game is still the same. Retailers want to more relevantly engage their loyal customers and turn less frequent shoppers into ongoing customers," said David Sikora, founder and CEO, Digby. "Punchcard and Digby are taking the tried and true loyalty program and updating it with twenty-first century technology, enabling retailers to more deeply understand their shopper's needs and more precisely engage those loyal shoppers at the right time and place."
About Punchcard
Punchcard is a mobile engagement and loyalty network designed to give merchants an effective way to retain customers while rewarding shoppers for making frequent purchases at their favorite retailers. The Punchcard app is a mobile platform that uses an electronic "punchcard" system that is easy-to-implement and simple to use for shoppers and merchants alike. Merchants get real-time data about their customers' buying habits, as well as social and other demographic information that allows them to provide their loyal customers with targeted offers and rewards. Punchcard is run by Gigway, Inc., an Idealab company, headquartered in Pasadena and was founded by Andy Steuer in 2011. For more information, please visit http://www.punchcard.com, and connect with Punchcard on Twitter, Facebook and Google+.
About Digby
Mobile technology's collision with brick and mortar stores challenges retailers to keep up with consumers who are better connected, better informed and more nimble than ever before. Digby's Localpoint platform enables you to become proactive in the buying process by connecting digital engagement to the physical world. With Localpoint embedded in your branded mobile app, you can seamlessly guide a consumer's purchase path across channels: driving store traffic through location-relevant marketing, personally engaging your customers in the brick and mortar store and developing new insights into consumer visit patterns across your locations. Digby, powering millions of apps in thousands of locations around the world, has been enabling top brands since 2006 including Bed Bath and Beyond, Cabela's, HP, Kohl's, RadioShack, and many more. Learn more about Digby and Localpoint at http://www.digby.com.
Media Contact
Catherine Seeds and Caitlin New
Ketner Group
(512) 794-8876
DigbyPR(at)ketnergroup(dot)com