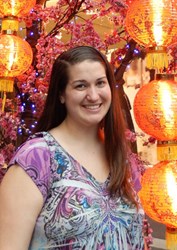 Lynchburg, Va. (PRWEB) January 10, 2014
Cheryl Walton, a first-year Liberty University Online student pursuing a Master of Arts in Management and Leadership, is spending 2014 overseas teaching English in Malaysia on a Fulbright Fellowship.
The Fulbright Scholar Program is the flagship international educational exchange program sponsored by the U.S. Department of State's Bureau of Educational and Cultural Affairs. It has provided approximately 300,000 participants — chosen for their academic merit and leadership potential — with the opportunity to study, teach, and conduct research, exchange ideas, and contribute to finding solutions to shared international concerns.
Walton — whose mother, Bonnie, graduated from Liberty in 2009 with a bachelor's degree in business and brother, Curtis, graduated from Liberty University School of Law in 2012 — received a Bachelor of Arts in Sociology and Psychology from George Washington University in 2011 and a Master of Social Work from Norfolk State University last spring.
She has served on Capitol Hill in the office of U.S. Sen. Mark Warner (D-Va.) and had an internship as a congressional liaison with the Department of Defense. While a student at GWU, she volunteered to teach in Washington, D.C., public schools and was on the executive board of Alpha Phi Omega (Theta Chi Chapter), a national co-ed community service fraternity. As a senior, she was selected as a Gilman Scholar and pursued her research in Cairo, Egypt.
Walton arrived in Malaysia on Jan. 4. Over the next year, she has ambitious educational and diplomatic goals.
"I plan to promote diversity and culture around the world," she said, noting an English teaching assistantship entails much more than just teaching English. "It is promoting the United States culture and understanding to the students in Malaysia as well as providing the United States with an understanding of Malaysian culture. I want to promote diplomacy to assist in bridging the gaps that can so easily be entangled."
She expects to return as a Liberty Online student next spring and complete her degree by the end of 2015.
"I have thoroughly enjoyed the classes that I have taken thus far at Liberty," she said. "My professors are very dedicated to the Lord and assisting their students in furthering their scope of knowledge."
After graduation, Walton anticipates returning to Washington, D.C., to pursue a career with the federal government, building strategic relationships between donors, philanthropists, and entrepreneurs to support and give back to her community.
"I have always wanted to serve both my God and country," she said. "I plan to pursue a job in public service with the government, but more importantly follow where the Lord leads me to serve Him."
About Liberty University
Liberty University, founded in 1971, is the largest private, nonprofit university in the nation, the largest university in Virginia, and the largest Christian university in the world. More than 100,000 students attend classes on its 7,000-acre residential campus and study in its thriving online education program.