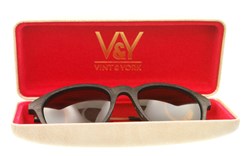 New York, NY (PRWEB) January 13, 2014
Global eyewear brand, Vint and York was a participating sponsor during this year's 71st Annual Golden Globes in Los Angeles, CA celebrating the nominees and presenters.
Vint and York have become more involved in the entertainment industry from being featured in TV shows and now theater and independent films are vying for the in-demand brand. In honor of the 71st Annual Golden Globes Awards, nominees and celebrities received Vint and York "Prophet" sunglasses including Sandra Bullock, Julia Roberts, Greta Gerwig, Kerry Washington, Zooey Deschanel, Lena Dunham, Jennifer Lawrence, Jared Leto, Andy Samberg, Bradley Cooper, Michael Fassbender, Leonardo Di Caprio, Christian Bale, Kevin Spacey, and Don Cheadle to name a few.
Vint and York brightly colored; uniquely shaped frames are vintage inspired with a modern look. It is targeted towards those who want bold, statement eyewear that matches their unique style to help them stand out from others in the marketplace. Their stunning frames have become a big hit in their industry and have quickly become the must-have eyewear for celebrities, media and trendsetters. Vint and York eyewear retail for $109.00: which includes the premium prescription lenses and free shipping. Vint and York new sunglasses featuring Zeiss Vision Lenses retail for $129.00. To find out more or to make a purchase, visit http://www.vintandyork.com.
Vint and York offer high quality, unique eyewear at an affordable price. The company produces vintage-inspired, statement eyewear for men and women. Vint and York has captured the attention of media and global trendsetters. For more information on Vint and York and its products, visit http://www.vintandyork.com and Facebook via facebook.com/vintandyork and Twitter via twitter.com/vintandyork.
For media inquiries, please contact:
Tamara York
Tamara York Public Relations, LLC.
212.967.8300
###