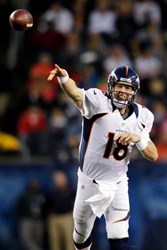 Denver, Colorado (PRWEB) January 11, 2014
It's no surprise last weekend's NFL Wild Card games were sold out. This was despite the frigid temps, especially at Lambeau Field as the 49ers slipped by the Packers 23-20 in bone-chilling Green Bay.
The game also had 47.1 million viewers on Fox to make it the most-watched Wild Card game on record. In fact, all four NFL post-season games averaged 34.7 million TV viewers, making it the most-watched Wild Card weekend on record.
Part of the reason may have indeed been the countrywide cold snap. Another reason may have been that three of the four games were decided by three points or less, only the second time in NFL history this has happened. Based on ticket sales, fans expect nothing less this weekend, as the winners will advance to the Divisional Championships on January 19.
The games begin today with the 12-5 New Orleans Saints taking on the 13-3 Seattle Seahawks. The Seahawks will use home-field advantage in an attempt to secure their 16th win in 17 games at CenturyLink Field. Drew Brees and the high-scoring Saints hope to silence the tenacious Seattle secondary first and screaming fans second.
Saturday night serves up another storied rivalry. After overcoming a huge deficit to edge the Chiefs 45-44 last weekend, the 12-5 Indianapolis Colts plan to carry their momentum into 12-4 New England. Meanwhile, Tom Brady and the Patriots have been nearly unbeatable at home in past years, and recently upended Andrew Luck and the Colts 59-24 in the 2012 Playoffs.
"The do-or-die divisional round is when things really get interesting," said Marta Ault at online ticket marketplace BuyAnySeat.com. "Every team remaining has a legitimate shot at the Super Bowl crown."
"That's why we're proud to offer fans the most comprehensive and continuously updated selection of sports tickets online, with a worry-free guarantee to protect their purchase," added Ault.
"To access the full line-up of NFL Playoff tickets now available, customers can go to BuyAnySeat.com and click on the Sports Header, then click on NFL Football to select their team and their tickets."
On Sunday, Cam Newton and the surging 12-4 Carolina Panthers meet the power-house 13-4 San Francisco 49'ers. After starting the season at 1-3, no one expected a winning season from the Panthers, much less a division win and a first round bye. Since their sorry start, the Panthers have lost just once and look to continue their winning streak going into their first playoff game.
The 49'ers have other ideas. The Panthers have the difficult job of slowing down San Francisco Quarterback Colin Kaepernick who led his team to the Super Bowl last season. In their first meeting this year, the Panthers narrowly edged the 49ers 10-9. Sunday's match-up looks to be another nail-biter.
This weekend's final game offers yet another feast for the fans. Denver, at 13-3 and led by the record-setting Peyton Manning, takes the field as a heavy favorite after outscoring opponents by an average of 20.4 points this season. The Broncos had won their first seven home games before losing 27-20 to the Chargers on December 12.
Denver hosts Philip Rivers and the 10-7 San Diego Chargers in the teams' third meeting this season. The Chargers sneaked into the playoffs and won convincingly over the Cincinnati Bengals 27-10 last Sunday. With the teams even at 1-1 this year, this game promises to deliver the excitement fans expect as well.
In terms of predictions, Seattle is favored to win over New Orleans by eight points, New England over Indianapolis by seven, San Francisco over Carolina by one and Denver defusing the Chargers by nine and a half.
To shop for NFL Playoff tickets, visit BuyAnySeat.com.
About BuyAnySeat.com: An online ticket marketplace, BuyAnySeat.com connects sports, theater and other live entertainment fans to an extensive network of ticket sellers worldwide. The site's simplified listings and navigational tools enable shoppers to easily locate, compare and purchase inexpensive, discounted or lower-priced tickets to virtually all advertised sports and entertainment events around the globe.
The ticket marketplace, which is PCI-compliant and Norton Secured, also provides customers with a complete Worry-Free Guarantee on all ticket purchases. Based in Denver, Colorado, BuyAnySeat.com is a subsidiary of Denver Media Holdings. For more information, please visit http://buyanyseat.com.