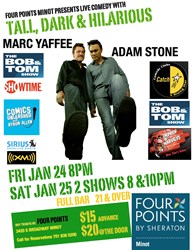 We do funny not filthy comedy, that is 'adult,' not 'adults only.' -- Marc Yaffee
Minot, ND (PRWEB) January 17, 2014
Nationally-touring comedian Marc Yaffee heard on Bob & Tom and seen on the Showtime special "Goin' Native" joins comedian Adam Stone, for three shows in two hilarious nights in Minot, Friday Jan 24 and Saturday January 25.
"Adam and I have done a lot of shows over the years. We have a lot of fun, and so do our audiences. We both do funny, not filthy comedy that is 'adult' not adults only," Marc said.
In addition to his appearance on Showtime and mutliple appearnaces on Bob & Tom, Marc has also been seen on PBS, Comics Unleashed and The Latino Laugh Festival and heard on NPR and SiriusXM. Marc has also written for the late George Carlin's laugh.com and performed five tours overseas for Armed Forces Entertainment. Marc recently released his first comedy CD, "Chuckelicious" in November.
Adam also performs at clubs, colleges and casinos around the country. He is a featured performer at The Improv at Lake Tahoe and Catch a Rising Star in Reno. He has also been featured on the syndicated national radio show "The Bob & Tom Show."
Marc and Adam will be performing at the Four Points by Sheraton, located on 3420 S. Broadway, Minot on Friday, Jan 24 at 8:00 p.m. and Jan 25 at 8:00 p.m. and 10:00 p.m. Tickets are $15 in advance, $20 at the door, to book tickets in advance, please call (701) 838-5200. This is a 21+ event.
More information on Marc is available on http://www.laughwithmarc.com, information on Adam is available on his website: http://www.adamcomic.com. They also have a shared website, http://www.funnynotfilthy.com.