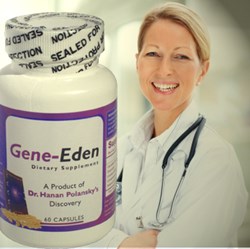 We recommend that Native Americans ask their doctors about Gene-Eden-VIR. This natural antiviral was clinically proven to reduce symptoms of an HCV infection in a study that followed FDA guidelines. - Mike Evans, polyDNA
Rochester, NY (PRWEB) January 20, 2014
polyDNA has learned that Shoshone Tribe chairman, Tildon Smart, told KOLO 8 News Now reporters that "they discovered a blood glucose monitoring pen had been reused on reservation members during the Diabetes Wellness Program. The program is managed by Indian Health Services (1)." polyDNA recommends Gene-Eden-VIR to members of the Native American community to help their immune system target the latent HCV. This natural product was clinically proven to reduce symptoms of HCV infections in a study that followed FDA guidelines.
"Smart says he and half of his staff were exposed to the diseases, along with other members of the reservation. Tests are pending to confirm whether or not they became infected (1)." Interestingly, the government's Indian Health Services refused to comment when approached by KOLO reporters. "KOLO 8 News Now has reached out to Indian Health Services for comment. They have not returned our calls and emails (1)."
This is a serious development for the Northern Nevada Shoshone Tribe. Studies show that the Hepatitis C virus makes diabetes worse, and vice versa, diabetes worsens the prognosis for those with Hepatitis C.
The Hepatitis C Trust says on its website that "Having hepatitis C greatly increases your risk of developing type 2 diabetes, and diabetes worsens the prognosis of hepatitis C…. it has been known for some time that people with hepatitis C are more likely to develop type 2 diabetes than uninfected people. One explanation is that the hepatitis C virus promotes accumulation of fat inside the liver. A fatty liver is not able to absorb excess glucose from the bloodstream; therefore the blood sugar level can rise to an undesirable degree. The majority of people with hepatitis C eventually develop insulin resistance (also known as syndrome X or metabolic syndrome). This means their liver as well as their muscles is not able to absorb glucose (sugar) from the bloodstream and use it for energy. Instead, the glucose is converted into fatty acids and gets stored as body fat, particularly in the abdominal region. Fat also accumulates in the liver and promotes the development of fatty liver disease. Hepatitis C increases the risk of liver cancer, and people with both hepatitis C and diabetes are at far higher risk of developing liver cancer (2)."
"We recommend that Native Americans ask their doctors about Gene-Eden-VIR. This natural antiviral was clinically proven to reduce symptoms of an HCV infection in a study that followed FDA guidelines." - Mike Evans, polyDNA
polyDNA recommends that individuals with an HCV infection take Gene-Eden-VIR, a natural remedy designed to help the immune system target the latent virus. A study published on August 12, 2013 in the peer reviewed, medical journal Pharmacology & Pharmacy, in a special edition on Advances in Antiviral Drugs, showed that Gene-Eden-VIR reduced HCV symptoms (3).
Study authors wrote that, "Individuals infected with the hepatitis C virus…reported a safe decrease in their symptoms following treatment with Gene-Eden-VIR (4)." The study authors also wrote that, "We observed a statistically significant decrease in the severity, duration, and frequency of symptoms (3)."
To learn more about Gene-Eden-VIR, and HCV, visit http://gene-eden-kill-virus.com/HCV.php. All orders of Gene-Eden-VIR are completely confidential, and no information is shared or sold to any third party. Privacy is assured.
References:
(1) Possible Hep B, Hep C, and HIV Outbreak at Northern Nevada Reservation. Published on January 12, 2013.
http://www.kolotv.com/home/headlines/Possible-Hep-B-Hep-C-and-HIV-Outbreak-at-Northern-Nevada-Reservation-239835221.html
(2) Hepatitis C Trust - Hepatitis C and Diabetes: A Deadly Combination.
http://www.hepctrust.org.uk/News_Resources/news/2010/June/Hepatitis+C+and+Diabetes+A+Deadly+Combination
(3) Gene-Eden-VIR Is Antiviral: Results of a Post Marketing Clinical Study. Published August 12, 2013.
http://gene-eden-kill-virus.com/PP_Gene-Eden-VIR-is-Antiviral.pdf
polyDNA is a biotechnology company that develops dietary supplements using the unique scientific method developed by Dr. Hanan Polansky, which is based on Computer Intuition.
In addition to his unique scientific method, Dr. Polansky published the highly acclaimed scientific discovery, called Microcompetition with Foreign DNA. The discovery explains how foreign DNA fragments, and specifically, DNA of latent viruses, cause most major diseases.
polyDNA developed Gene-Eden-VIR, an antiviral natural remedy that helps the immune system kill latent viruses.