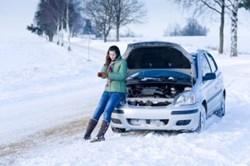 St. Louis, MO (PRWEB) January 15, 2014
The Polar Vortex that recently devastated most of the United States caused a good amount of chaos, stress, and confusion for everyone in its path. People were snowed in and missed plenty of school and work due to the unrelenting snow and dire road conditions. Common sense calls for several layers of loose clothes to keep warm in these types of conditions, but most people forgot to shield their smartphones, tablets, and laptops from the extreme cold and snow.
KTVI Fox 2 St. Louis conducted an interview with Chris Phillips, owner of CPR Cell Phone Repair, about what mobile device owners need to do to keep their gadgets and communication devise protected when temperatures become less than hospitable.
Chris' first piece of advice for device owners is to check the manufacturer's guidelines to find the safe temperature range. Some manufacturers suggest that the lowest acceptable temperature is 32 degrees while others insist that devices can handle temperatures as low as -4 degrees.
If owners insist on taking their devices out for a round of sledding, dog walking, or shoveling, it is important to know the proper safety precautions for taking care of them if they fall in the snow. The last thing owners want to do with devices is turn them on immediately. Devices are full of intricate electronics that can short circuit and become unusable if they come into contact with any moisture. Chris suggests that the best course of action is to take the battery out if possible and let the device sit next to a cool, moving source of air so it can dry out as quickly as possible.
If a consumer drops a device in the snow or if it becomes damaged by the cold weather and it will not turn on, it is important to take it to a shop like CPR Cell Phone Repair as soon as possible. The technicians on staff are expertly trained in the repair of these intricate electronics and will repair devices safely, accurately, and quickly so consumers do not have to shell out big money for a new device.