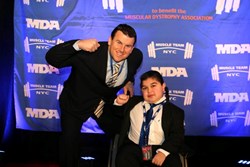 "It is an honor and a privilege to be part of the New York Muscle Team that raises vital funds to help save the lives of those affected by muscle disease," said New York Giants offensive lineman Chris Snee.
NEW YORK (PRWEB) January 13, 2014
The Muscular Dystrophy Association scored a huge win in the fight against muscle disease at the the17th annual New York Muscle Team® Gala on Jan. 7 that raised more than $1.2 million to benefit local families served by the organization.
The Gala, held at Chelsea Piers, Pier 60, attracted hundreds of guests for the unique, high-profile reception and fundraiser which raised more than $80,000 over the previous year.
"The Greater New York community went above and beyond to help make this year's event a huge success in support of the families we serve," said MDA Divisional Director Kaylan Moitoso. "From the pro athletes that were partnered with a "Buddy" to make their night extra special, to the celebrities who came out to support a good cause, to the business and community leaders that helped sponsor the event, we are grateful to everyone who flexed their muscles to make a difference and help fight back against muscle disease."
The annual Gala provides guests with the opportunity to meet members of the 2014 New York Muscle Team, including top pro athletes and local celebrities who were paired with an "MDA Buddy" (a local child affected by a muscle disease) for the VIP and media reception.
Click here for photos of the 2014 New York Muscle Team Gala.
"It is an honor and a privilege to be part of the New York Muscle Team that raises vital funds to help save the lives of those affected by muscle disease," said New York Giants offensive lineman Chris Snee. "Having the opportunity to meet the inspirational kids and families that MDA serves, especially getting to spend time with my Buddy, has been an incredibly awarding experience that I'll never forget."
2014 Muscle Team Members include:

New York Giants offensive lineman Chris Snee; cornerback Prince Amukamara; punter Steve Weatherford; offensive lineman Kevin Boothe; wide receiver Jerrel Jernigan; running back Michael Cox; linebacker and long snapper Zak DeOssie; tight end Brandon Myers; wide receiver Julian Talley; safety Antrel Rolle; quarterback Ryan Nassib; offensive guard Eric Herman; cornerback Terrell Thomas; offensive tackle Justin Pugh; linebacker Mathias Kiwanuka; and safety Cooper Taylor
New York Jets defensive end Quinton Coples; punter Ryan Quigley; safety Jaiquawn Jarrett; and offensive guard Willie Colon
New York Liberty star Essence Carson
NYRA jockeys Maylan Studart and Mike Luzzi, and famous harness racer John Campbell of The Meadowlands racetrack; and
New York Red Bulls midfielder Eric Alexander; goalkeeper Luis Robles; and midfielder Dax McCarty.
Among some of the local celebrities to attend this year's Gala were WWE wrestling legend and longtime MDA friend Sgt. Slaughter; Miss USA 2013 Erin Brady: Miss New York 2013 Joanne Nosuchinsky; and Countess LuAnn de Lesseps from the Bravo hit show "The Real Housewives of New York City."
FOX5/My 9 News sports anchor Russ Salzberg, an MDA supporter of more than 24 years, served as emcee for the evening.
Since 1996, the New York Muscle Team Gala has raised more than $18 million to support MDA research and services.
Funds raised at the Gala will directly benefit MDA families in the Metro New York area, and the Association's programs of research and clinic services at Columbia University Medical Center, Hospital for Special Surgery and NYU Langone Medical Center. The funds also will help send kids with muscle disease to a free weeklong summer camp in Long Island, N.Y.
For more information about the 17th annual Muscle Team Gala, follow us on Facebook (facebook.com/ManhattanMDA) and Twitter (@MDAManhattan).
About MDA
The Muscular Dystrophy Association is the world's leading nonprofit health agency dedicated to finding treatments and cures for muscular dystrophy, amyotrophic lateral sclerosis (ALS) and other neuromuscular diseases. It does so by funding worldwide research; by providing comprehensive health care services and support to MDA families nationwide; and by rallying communities to fight back through advocacy, fundraising and local engagement. Visit mda.org and follow us at facebook.com/MDAnational and @MDAnews.