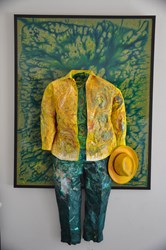 Paul's exhibit is one of the most unique showings that we have featured at the resort.
Dana Point, CA (PRWEB) January 15, 2014
From February 8 through April 30, 2014, The Ritz-Carlton, Laguna Niguel will showcase artist Paul Davids' Collaborations Portfolio, a unique collection of 13 mixed media pieces with tributes to Vincent van Gogh and Andy Warhol.
The original artworks were created in Santa Fe by Davids with collaborating artist Russell Metzger. The works are three-dimensional oil paintings on canvas and alder wood. They incorporate twisted fabrics, polished stone, dyes and epoxy resins. Davids and Metzger turned the fabrics and other materials into dramatic skyscrapers, gigantic waves, cliffs, mountains, coves, clouds, and even towering flowers. Selections from the Collaborations Portfolio include Chicago Moon, Twisted Cloth Canyon, 65 Million Years Ago, Meditation, The Spirit of Vincent (pictured to the left), Andy's Collection, the Fab Four, Windowsill Flowers, White Collar Peak, Zipper Falls, Jean's Cove, California Dreamin' and Northern Ice.
"The art I create is representational, and I have not been involved (yet) in the realm of pure abstraction," says Davids. "However, my conception of representational art is infused with abstractions as I never try to convey literally the reality the eye sees. Rather, I lend a personal interpretation to my subjects with attitudes that range from compassion to whimsy," he continued.
"Paul's exhibit is one of the most unique showings that we have featured at the resort since we opened the Art Exhibit Space in 2010," says Director of Marketing Donna Bond. "With Paul's Hollywood notoriety, I anticipate the exhibit to be popular not only with resort guests, but art aficionado and collectors as well," she added.
Paul Davids is a prolific artist whose paintings have been displayed in many galleries. A native of Bethesda, Maryland, he is the son of a famous Georgetown University professor of American History, Dr. Jules Davids, who worked extensively with John F. Kennedy on the writing of PROFILES IN COURAGE. Davids is a graduate of Princeton University where he majored in psychology and won numerous awards in writing. He also attended the AFI Center for Advanced Film Studies and has written and directed eight full-length films, many produced with his wife, Hollace Davids. Paul's collaborator, Russell Metzger, has a background in abstract art and music.
---
About The Ritz-Carlton, Laguna Niguel
Located halfway between Los Angeles and San Diego, The Ritz-Carlton, Laguna Niguel sits on a 150-foot bluff with panoramic white-water views of the Pacific Ocean and two-miles of sandy beach. The resort is a re-imagined surfside retreat that awakens guests' senses with its unique ocean-front setting and remarkable service heritage. As the premiere destination for travelers who desire a playful approach to Southern California luxury, the resort has been the recipient of many awards over the years, but is proud to boast earning AAA Five Diamond status for the 29th year, the longest in California. For additional information or reservations at the resort call 800-241-3333, the hotel directly at 949-240-2000, a travel professional or visit the web site at http://www.ritzcarlton.com/LagunaNiguel.
About The Ritz-Carlton Hotel Company, L.L.C.
The Ritz-Carlton Hotel Company, L.L.C. of Chevy Chase, Md., currently operates 84 hotels in the Americas, Europe, Asia, the Middle East, Africa, and the Caribbean. More than 30 hotel and residential projects are under development around the globe. The Ritz-Carlton is the only service company to have twice earned the prestigious Malcolm Baldrige National Quality Award which recognizes outstanding customer service. For more information, or reservations, contact a travel professional, call toll free in the U.S. 1-800-241-3333, or visit the company website at http://www.ritzcarlton.com. The Ritz-Carlton Hotel Company, L.L.C. is a wholly owned subsidiary of Marriott International, Inc.