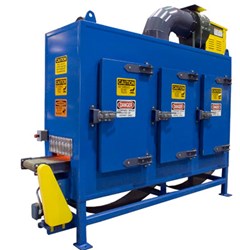 Chattanooga, TN (PRWEB) January 14, 2014
Davron Technologies, Inc. manufactured three electric infrared continuous conveyor ovens and shipped them fully assembled to a client in China. The continuous conveyor ovens, model DTI-991, were designed to cure automotive disc brake coatings.
Featuring three heating zones powered by three infrared panels of approximately 30,000 watts each, the DTI-991 continuous conveyor oven was designed to operate between 200ᴼ and 400ᴼF but can reach temperatures as high as 500ᴼF. The intensity of the heat applied to the product as it passes through the oven chamber can be adjusted with the heat control and by varying the height of the IR panels. These features allow for a wide range of heat settings and can be used to prevent blistering. Three circulation fans bring fresh air into the chamber while one exhaust fan can be activated to remove hot air as needed.
The dimensions of the DTI-991's usable interior are 2'0" wide x 8'0" long x 5'3" high. Disc brakes move through the eight-foot-long heated chamber on a steel mesh belt and have a dwell time of approximately one minute. The inner chamber is made out of aluminized steel backed by three inches of eight-pound-density mineral wool insulation. A structural steel frame sits inside the insulated walls of the oven. The exterior is constructed from carbon steel and coated with high-temperature paint.
Davron provided turnkey design and manufacturing services for the DTI-991 continuous conveyor oven based on specifications provided by the client. Once acceptance and training were completed at Davron headquarters in Chattanooga, Tenn., Davron shipped three fully assembled DTI-991 continuous conveyor ovens to the client's facility in China.
Visit http://www.davrontech.com for more information about Davron's continuous conveyor oven capabilities. Or, if you'd like to discuss your own industrial oven project, please call Davron's Vice President, Jimmy Evans, at (888) 263-2673, or fill out Davron's online spec submission form.
About Davron Technologies, Inc.
Davron Technologies, Inc. custom fabricates industrial ovens, providing turnkey design and system integration services to develop thermal processing solutions. Davron is a total industrial oven manufacturer, creating custom industrial ovens and precision process equipment for every industry that requires thermal processing. Each Davron industrial oven is custom built according to customers' unique specifications. As the Provider of Industrial Oven Solutions, Davron offers one of the largest selections of in-house and on-site industrial oven services in the world.
###