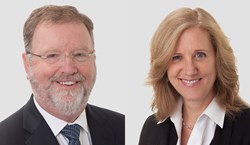 With Joyce Polhamus and Carl Christiansen as co-studio leaders of our Health Studio, we strengthen our commitment to a holistic and integrated approach to design.
San Francisco, CA (PRWEB) January 14, 2014
SmithGroupJJR, one of the nation's leading architecture, engineering and planning firms, has integrated its Health Studio in San Francisco, Calif. to respond to the evolving needs of the healthcare industry.
Carl Christiansen, AIA, LEED AP, and Joyce Polhamus, AIA, EDAC, LEED AP BD+C, will be the co-leaders of the new 50-member Health Studio (one of six in SmithGroupJJR's national Health practice). Polhamus joins Christiansen in her new role after leading the office's Health Interiors and Senior Living Studio since 2004, serving clients both in the U.S. and abroad.
"The healthcare industry is becoming increasingly integrated across the care delivery continuum. Combining the expertise of our health practice into one studio will allow us to best serve our clients," said William Diefenbach, FAIA, LEED AP BD+C, who oversees SmithGroupJJR's San Francisco and Los Angeles offices. "With Joyce Polhamus and Carl Christiansen as co-studio leaders of our Health Studio, we strengthen our commitment to a holistic and integrated approach to design."
During her 18 years with SmithGroupJJR, Polhamus has led projects spanning campus master plans for senior living communities, interior master plans and standards, renovations of all sizes, and new facilities for ambulatory, acute and post-acute care. Recent projects include a 275,000-square-foot high-rise Continuing Care Retirement Community facility in Shanghai, China for Vcanland Development, now under construction and slated for completion in 2015. In the U.S., Polhamus is leading the firm's design of Peninsula Health Care District's new 150,000-square-foot Assisted Living and Memory Care facility in Menlo Park, Calif.
As the leader for the Health Architecture Studio since 2007, Christiansen has overseen some of the office's largest projects internationally, including the firm's work for the Institute for Biliary and Liver Sciences in New Delhi, India, now under construction, and the 363,000-square-foot, 350-bed STS Hospital in Bangladesh, targeted for completion in 2016. Under his leadership, the team has also designed some of the largest hospital projects in California for the Veterans Administration, Sutter Health, and Kaiser Permanente.
One of the studio's most notable health projects currently underway is Alameda County's multi-phased project at Highland Hospital, Oakland, Calif. The first phase, the 80,000-square-foot Highland Care Pavilion was occupied in 2013. The 315,000-square-foot Acute Care Tower Replacement will be completed in 2015 followed by a 24,000-square-foot entry building with central courtyard uniting the campus.
While both Polhamus and Christiansen have led successful studios at SmithGroupJJR and partnered together on many projects, they will now join their personal strengths and staff resources in design, management and client service within the newly integrated Health Studio.
SmithGroupJJR (http://www.smithgroupjjr.com) is ranked as the 10th largest healthcare design firm in the world by the 2013 edition of World Architecture 100, published by Building Design magazine. A leader in sustainable design, SmithGroupJJR has 351 LEED professionals and 100 LEED certified projects.