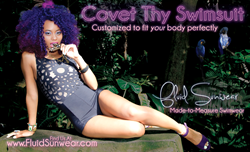 Mix and match swimwear is simply a bandage for women who have a hard time finding swimwear that fits.
Galveston, TX (PRWEB) January 15, 2014
Fluid Sunwear launches their 'Covet thy Swimsuit' advertising campaign inside the Official 56th Annual Grammy Awards® Program Book, the official event program for the 2014 Grammy Awards® held on Sunday, January 26th.
Fluid's campaign is geared toward women who are looking for a flattering swimsuit, offering women a swimsuit that molds to their body like a glove. Fluid allows women a chance to partake in what was once forbidden fruit; a perfectly fit swimsuit without the anxiety of swimsuit shopping.
"We are honored to have been contacted by FX Marketing Group, Inc. to have our business highlighted in such an amazing publication," states President & CEO, Megan Turnbow. "This opportunity gets us in front of millions of women, allowing us to divulge how every woman can reveal with confidence. Not only will we be able to reach out to the audience of the Grammy Awards itself, but also to the millions of trend setting readers that will be able to purchase this much prized book as a souvenir shortly after the Grammy Awards airs on CBS."
Fluid recognizes most women have issue finding a swimsuit that fits and flatters. Simply mixing and matching bottoms with tops does not always answer all the issues when fitting into a swimsuit, however, until now, it was the best way.
"Mix and match swimwear is simply a bandage for women who have a hard time finding swimwear that fits," states Pam Saavedra, Memphis custom dressmaker. "However, anyone purchasing a one piece is out of luck. Fluid's swimsuits address issues for all body types, accounting for such things as height, breast coverage and lift, saggy and/or over tight bottoms. You name it, they solve it. Having access, from the comfort of your own home, to a perfectly fit swimsuit is a revolutionary approach to solving the problems off the rack swimwear exemplifies."
Fluid would like to recognize the people and businesses who helped create this advertising campaign: Courtney Goodbar, owner of Courtney4Hair; Irene Amiet, award winning photographer; Melriah Hampton, model; and Moody Garden's Rainforest Pyramid®; all of Galveston, Texas.
For more information about Fluid Sunwear, please visit: http://www.fluidsunwear.com.
To view videos about Fluid Sunwear, visit http://www.fluidsunwear.com/fluidvision.
About Fluid Sunwear
Fluid Sunwear specializes in women's made-to-measure luxury swimwear and ready-to-wear designer sunwear. Fluid takes luxury swimwear to the next level offering women indulgent style, pure extravagance and timeless beauty. Fluid offers an experience not currently available through any other swimwear line – perfectly fit swimwear from the convenience of one's own home. For more information, contact Fluid via e-mail: info(at)fluidsunwear(dot)com or telephone: 409.974.7017.
About Courtney4Hair
As an Art History major, Courtney Goodbar takes hair and makeup to a new level, creating forms of art in every style. Courtney is well known for her Balayage hair painting technique, where she paints individual highlights allowing her to use hair to express a picture of color much like a painter uses canvas.
About Irene Amiet
Irene Amiet is an award-winning photographer who brings her love for light and texture into all commercial projects. As a conservationist, she incorporates nature's beauty into all aspects of commercial photography. Her work has been published internationally.
About Moody Gardens
Located on Galveston Island, TX, Moody Gardens® is one of the premier educational/leisure facilities in the Southwest. Moody Gardens offers visitors an Aquarium Pyramid®, a Rainforest Pyramid® and a Discovery Museum® as well as Colonel Paddlewheel boat cruise, a relaxing lazy river ride, wave pool and more at Palm Beach- Galveston's only white sand beach. Guests can relax and indulge on island time at the beautiful Moody Gardens® Hotel or take on a new challenge at the Moody Gardens Golf Course.
About FX Marketing Group, Inc.
FX Marketing Group, Inc. is a sports marketing/management and publishing firm specializing in client & event management. FX is perfectly positioned to align Fortune 1000 companies with some of the biggest sporting brands in the World.