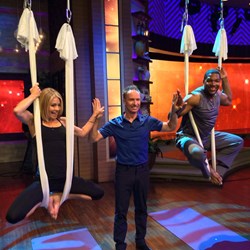 new york, ny (PRWEB) January 14, 2014
E! Entertainment placed Aerial Fitness, the genre created by Christopher Harrison in the first spot for "hottest ways to work out in 2014" calling AntiGravity Fitness a "huge trend loved by celebs like Gwyneth Paltrow, Mariah Carey, Britney Spears and Pink. According to E! predictions for 2014, Aerial fitness is "a fitness fad with staying power" and we should "expect to see a lot of working out up in the air."
Catching onto the trend are TV's favorite daytime talkshow hosts, Kelly Ripa and Michael Strahan from their ABC award winning show. On Jan. 10th 2014, the NFL Superstar with the record for the most sacks was introduced to zero-compression inversions while Kelly executed the Harrison Aerial Handstand without hands.
In the past year, AntiGravity Fitness reports that their aerial yoga technique is now in over 45 countries with close over 1000 Certified Instructors world-wide. Recent expansions include: Saudi Arabia, South Africa, Mongolia, Uzbekistan and Singapore. According to Christopher Harrison, inventor of the silk yoga hammock apparatus, "Practitioners love the zero-compression inversions and how it helps them to get rid of back pain". Although there are now other aerial yoga techniques emerging, AntiGravity® Fitness is clearly the leader in the field with five Suspension Fitness accredited techniques launched and two more emerging in early 2014.
Click here to watch Kelly & Michael turn upside down.