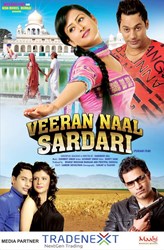 (PRWEB UK) 15 January 2014
Behind classics like Lalkara Jatti Da, the newest blockbuster by Indian cinema veteran Bhushan Madaan is releasing on 17th January 2014. Starring Punjabi superstars and set against a beautiful backdrop, 'Veeran Naal Sardari' is set to excite movie-goers and critics this month.
The family film stars award winning actress Jaspinder Cheema, singer and artist Raj Juhjar and the beautiful actress Sapna Thakur. The film was shot in various states in India including the Punjab and Harayana.
Combining romance with action and comedy, the film touches on the importance of family relations and explores the relationship between a pair of siblings. The twist unfolds when Raj Juhjar faces a tough test to save his sister Jaspinder Cheema from a group of unsavoury characters but, due to his mental condition he is unable to protect her. After recognising his shortfalls, Juhjar gains the courage to stand up against the forces of evil.
"The film's narrative combines traditional Indian values with a modern story," explains producer Bhushan Madaan.
Tradenext, a UK based financial services firm is media partner for the film. Jagjeet Singh Co-Founder of Tradenext commented: "We are a global FX broker and our association with this film is part of a wider marketing campaign aimed at funding projects that can develop real growth in sectors like Indian cinema. Through supporting the film business, there is scope to build relationships with variety of companies and generate prosperity for the wider economy".