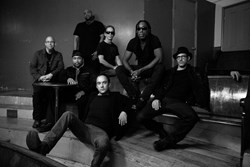 Milwaukee, WI (PRWEB) January 14, 2014
Milwaukee World Festival, Inc. officials are excited to announce the third major show slated for Summerfest 2014. Dave Matthews Band will headline the Marcus Amphitheater on Wednesday, July 2.
In 2013, Rolling Stone put Dave Matthews Band on its list of the "50 Greatest Live Acts Right Now," observing, "Two decades in, DMB still knows how to surprise their fans." The group's 2014 North American summer tour may be its most surprising yet.
"A Very Special Evening with Dave Matthews Band" will feature the group delivering two sets per evening, performing songs from throughout its career. Dave Matthews Band will wind through numerous configurations – from electric to acoustic, from full-throttle numbers featuring the entire band to more intimate moments featuring small groups of band members – including a stripped-down pairing of Matthews with guitarist Tim Reynolds, performing as an acoustic duo, as they occasionally do when the band is off the road. A variety of guests will join the band throughout the summer.
"I was talking to Carter about how much I still like just sitting around playing music together. It's how we started – in the basements of Carter's and my mom's houses," says vocalist/guitarist Dave Matthews. "Our shows are loose, but we started thinking that maybe this summer we should make them looser and bring some of that feeling to the stage. It seems like the opposite of a safe plan, so why not?"
"Everyone was really psyched about the idea, so we've been busy figuring out how to turn it into the best possible experience for our fans," says drummer Carter Beauford.
An online presale for all shows will begin on Thursday, January 16, at 10:00 am ET at http://www.warehouse.davematthewsband.com for members of the DMB Warehouse Fan Association. Citi is the official credit card of the Dave Matthews Band Summer 2014 Tour. Citi card members will have access to presale tickets through Citi's Private Pass Program beginning on Monday, February 3, at 10:00 am local time for all shows except the August 29-31 dates, which will be available beginning on Monday, February 17 at 10:00 am local time. For complete presale details visit http://www.citiprivatepass.com. For further details, see below or visit http://davematthewsband.com.
Tickets go on sale Friday, February 7 at 10:00 am and include Summerfest admission. Tickets can be purchased at the Summerfest Box Office, Ticketmaster Ticket Centers, Walmart stores, online at Ticketmaster.com and by phone at 1.800.745.3000 (live Ticketmaster Agent) or 1.866.448.7849 ("Ticketmaster Express" automated phone line). Patrons may also utilize "ticketfast" at Ticketmaster.com to print barcoded concert tickets from home. Convenience fees may be added to all purchases.
.
PLEASE NOTE: To purchase Marcus Amphitheater tickets in person at the Summerfest Box Office on the day of the on sale, patrons must visit the temporary location at the Mid Gate on the corner of Harbor Drive and Chicago Street. Parking will be available across the street.
Last summer's Dave Matthews Band run topped Billboard's Hot Tours chart in September 2013. The Dallas News noted, "The band's musicianship deserves undivided attention … for nearly three hours that organic blend of instruments, voices and songs swept through a crowd eager to spend all night with the Dave Matthews Band."
"The only reliable Dave Matthews Band set list is a dart board with the group's entire 22-year-old discography. And that, my friends, is a good thing – for the fans and the band," said Cleveland's Plain Dealer. "Each night is a new night, a new beginning for us all … like life, which really has no straight roads, a DMB show is a journey down twisting and turning byways. The difference is that there are no speed bumps, no orange barrels, but there ARE plenty of fascinating side roads."
Dave Matthews Band has sold a collective 37 million CDs and DVDs combined. The group has teamed up again with Rob Cavallo, who produced 2009's Big Whiskey and the GrooGrux King, to record a new album that will be released later this year. With Away From The World entering the Billboard 200 at No. 1 in 2012, Dave Matthews Band became the first group in chart history to have six consecutive studio albums debut atop the chart. The band ranked as the biggest ticket seller worldwide of the past decade and has sold over 19 million tickets since its inception.
For Additional Information On DAVE MATTHEWS BAND:
http://www.davematthewsband.com
http://www.warehouse.davematthewsband.com
Summerfest 2014 will take place June 25 - 29 and July 1 - 6 from Noon until Midnight and will be closed Monday, June 30. Following its 1968 debut, Summerfest has evolved into what is now recognized as "The World's Largest Music Festival" and Milwaukee's cornerstone summer celebration, bringing the music industry's hottest stars, emerging talent and local favorites along with approximately 900,000 people from Milwaukee and around the world together each year for an unforgettable live music experience. During the festival, the spotlight shines on over 800 acts, over 1,000 performances, 11 stages, delectable food and beverages and interactive activities, all in a world-class festival setting. Patrons can also enjoy Miller Lite, the Official Beer of Summerfest. For more details, visit Summerfest.com, Facebook.com/summerfest or Twitter: @Summerfest.