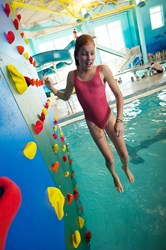 We are excited to be a part of the buzz.
Mendota Heights, MN (PRWEB) January 24, 2014
In the last few years, aquatic center budgets have been funneled towards required federal safety and accessibility updates such as the Virginia Graeme Baker Pool and Spa Safety Act and 2010 ADA Standards for Accessible Design. Without any mandates for the New Year, 2014 brings opportunities to add other innovations to aquatic centers. Pool and Spa show attendees are in search of ways to revitalize pools and strengthen aquatics programs. Products like pool climbing walls, which attach to the side of the pool allowing users to climb the wall and splash back into the pool, fit the bill.
Designed to engage recreational users, especially the difficult to reach teen and "tween" market, products like the Kersplash wall are proving to be a hit. Users at the Mickle Pool in Gainesville, FL agree. Recreation Supervisor Jeff Moffitt says they are always looking for, "what can we do to keep the momentum going." When they came across the idea of a pool climbing wall there was a lot of excitement. Gainesville used the Kersplash wall to make the Mickle Pool a destination. "We are getting a great response!" Attendance at Mickle Pool has increased 158% since Kersplash was added.
Director of Marketing for Kersplash Pool Climbing walls, Tracy Whitney, says, "The Atlantic City Pool & Spa show is a great venue for new ideas." She said, "It provides insights on the latest trends and innovations. We are excited to be a part of the buzz."
About Everlast Climbing
Everlast Climbing is committed to improving youth fitness with dynamic and innovative products that engage children and inspire physical activity. The company is headquartered in Mendota Heights, MN, and is part of EverActive Brands, a division of PlayCore of Chattanooga, TN. More information is available about Everlast Climbing at http://www.everlastclimbing.com. More information is available about PlayCore at http://www.playcore.com.