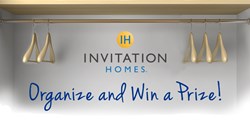 Dallas, Texas (PRWEB) January 16, 2014
Invitation Homes, the nation's leading provider of high-quality homes for rent, is encouraging its residents to get organized. A special promotion – "Organize and Win a Prize" – has been launched through social media on Facebook and Pinterest.
Starting on January 14, which happens to be "National Organize Your Home Day," the company will post 14 days of useful organization tips on the Invitation Homes Facebook page.
At the same time, Invitation Homes residents can participate – and even win a cash prize – by:

Creating a Pinterest board with 14 organization tips with the headline "ORGANIZE AND WIN A PRIZE" and adding the hashtag #invitationhomes in the comments of each pin.
Sharing the board with Invitation Homes by January 30.
Representatives from Invitation Homes will decide which boards have the best organization tips, and the top three will win gift cards. The first place winner will get a $100 gift card, second place will receive a $50 gift card and third place will receive a $25 gift card.
Winners will be announced on the Invitation Homes Facebook page on January 31, 2014.
About Invitation Homes
Founded in 2012, Invitation Homes leases single family homes in 14 regions across the country. Since it began, Invitation Homes has purchased more than 40,000 houses, making it the leading company offering single-family homes for rent in the U.S. Based in Dallas, Texas, Invitation Homes offers a high-quality rental experience that includes professional property management, 24/7 emergency maintenance, an online portal for rent payment and a friendly policy toward pets. For more information, visit http://www.ihrent.com.