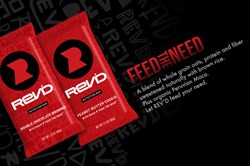 "We make premium, superfood nutrition bars with killer taste."
Newport Beach, CA (PRWEB) January 14, 2014
Rev'd Provision Co. announced today that its REV'D® maca superfood bars are now available for sale on the company's web site. "I am very happy that our e-commerce program is up and running smoothly. With social media today, we have been getting an increasing number of inquiries from all over the country. Now consumers anywhere in the US will be able to order our premium, non-GMO nutrition bars," said company founder Paul Janavs.
The first two REV'D® flavors are Double Chocolate Brownie and Peanut Butter Cookie. But more great flavors will be available soon. Rev'd Provision is a small company that prides itself on doing things differently from the big nutrition bar brands. But first and foremost, "We make a better product," says Janavs. "We'll keep changing our recipes hundreds of times in order to achieve a better tasting bar than anything that's out there."
REV'D® bars are also made with maca superfood that is organically grown high in the Peruvian Andes. But you'd never know they're superfood bars from the taste. "This kind of juxtaposition is what REV'D® is all about," says Janavs. "We make premium, superfood nutrition bars with killer taste." REV'D® nutrition bars are non-GMO and made with wholesome ingredients you can pronounce, like oats, dates, nuts, and superfoods like cocoa and organic Peruvian maca. "We're different in other ways too," says Janavs. "We're involved with athletes, sports and activities that are ignored by the big brands including art and music. We're black sheep. We try to do all the things the big brands would never do. So far, that's helped us create what we are being told are the best products of their kind."
About Rev'd Provision Co.
Rev'd Provision Co. LLC is a small, passionate company that makes premium, Non-GMO superfood nutrition bars with organic Peruvian maca. REV'D® bars provide the world's most exciting athletes with extreme nutrition, satisfaction and amazing taste that can go anywhere. REV'D® bars are Non-GMO and contain no artificial colors, flavors or preservatives. No trans fat. No hydrogenated oils. No high fructose corn syrup. No low fructose corn syrup. No corn syrup, period. We value innovation, positivity and empowering youth. We support cutting edge athletes, artists and musicians. We are passionate about freedom of expression and individualism. Welcome to the Rev'd Life. http://www.revdlife.com.
http://facebook.com/revdlife
email: paul(at)revdlife(dot)com
Source: Rev'd Provision Co.