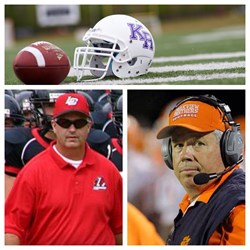 'Coach Flowe's record speaks for itself. He doesn't talk all that much about winning,' comments Jeff Picken. 'Rather, he prefers to talk about shaping and molding the lives of young men which is a high priority in our program.'
Alpharetta, GA (PRWEB) January 16, 2014
King's Ridge Christian School makes a strong statement about the future direction of their football program by announcing the hiring of Todd Mooney as offensive coordinator/quarterbacks coach and Cecil Flowe as defensive coordinator/linebackers coach. They will begin work immediately under the guidance of Jeff Pickren, KRCS football program coordinator and varsity coach.
These names may be familiar to not only those who love the game of football, but those who take note of the success of high school and college program growth.
Coach Mooney has a wealth of talent having been a football coach at the collegiate level for the past 25 years, most recently serving since 2005 as the head football coach at LaGrange College. He not only launched the LaGrange program, but in 2008 also was recognized as:

Schutt Sports DIII National Coach of the Year
D3.com DIII South Region Coach of the Year
St. Louis Intercollegiate Athletic Conference Coach of the Year
DIII NCAA record holder for program turnaround
(0-10 to 9-2)
During his college coaching tenure, he has also served in the roles of offensive coordinator, defensive coordinator and strength coordinator.
One of his most appealing strengths in this role is his tremendous heart to coach and lead young men. "Not only was I impressed with his football knowledge, but I was impressed with his faith and character," states Jeff Pickren. "He is an outstanding Christian man who I would want my son to play for." Mooney will also be serving in the role of interim assistant athletic director, as well as teaching high school personal fitness and other classroom duties.
Dr. Stuart Gulley, current president of Woodward Academy, the largest independent school in the nation, was one of Coach Mooney's references. Gulley was serving as the president of LaGrange College when he hired Mooney as the first head football coach from a pool of 175 applicants. Upon hearing of Mooney's hire, he immediately contacted KRCS headmaster David Rhodes and said, "You have hired a winner. I think so very highly of Todd and his family. He will make you proud. Congratulations!"
Coach Flowe comes to King's Ridge with a well-known reputation for expertise and excellence in the coaching profession, most notably as the head football coach at Parkview High School for the past 21 years. Parkview High School has been the gold standard of Georgia High School football during this time. A few of Flowe's noteworthy career highlights include:

Second longest winning streak in the state of Georgia at 46 games with a coaching record of 197-66.
Winning the GHSA football state championship title at the highest classification in 1997, 2000, 2001, 2002. Also a contender for the state championship in 1995 and 2004.
Leading Parkview to the state playoffs in 19 of the 21 years.
Leading Parkview to the quarterfinals 14 times with the latest appearance in 2012.
Coach of the Year Awards from:
o AAAAA Classification - State of Georgia, 2004
o Atlanta Touchdown Club AAAAA: 1995, 1997, 2001, 2002, 2004
o Atlanta Journal and Constitution: 2000, 2001, 2002
o Georgia Athletic Coaches Association: 1997, 1999, 2000, 2001
o Gwinnett Daily Post: 2000, 2001, 2002
o NFL High School Coach of the Year: 2001
"Coach Flowe's record speaks for itself. He doesn't talk all that much about winning," comments Jeff Picken. "Rather, he prefers to talk about shaping and molding the lives of young men which is a high priority in our program."
Former players speak about their respect of this veteran coach. "Coach Flowe influenced me as a young man as much as anyone," reminisces Pete Everett, who played at Parkview from 1990-1993. "He was such a role model and I love him dearly." As you can tell, this type of coach leads young men not only while they are on the field, but also impact them for a lifetime. Coach Flowe will also be teaching middle school personal fitness and coaching middle school baseball this spring.
We are charged up for an exciting future for Tiger Football and invite the community to come meet the new additions to our coaching staff at the KRCS Preview Day, Sunday, January 26 from 2:00 – 4:00 PM.
King's Ridge Christian School is a multi-denominational, college preparatory PreK-12th grade independent school located in Alpharetta, GA. Admission tours are available and enrollment continues throughout the school year in select grade levels. Visit http://www.kingsridgecs.org or call (770) 754-5738 for additional information.