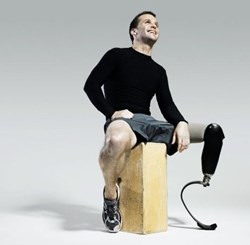 Brentwood, TN (PRWEB) January 15, 2014
Swiftwick, a leading producer of athletic compression socks, is proud to announce a new partnership with Southern Prosthetics Supply (SPS), the world's largest orthotics and prosthetics distributor. By becoming a supply chain partner with SPS, Swiftwick is able to provide its VALOR amputee liner sock more efficiently to even more consumers.
The VALOR benefits amputees by providing supreme comfort, compression and technologically-advanced moisture management inside the prosthetic. Unlike other amputee sock liners, the VALOR sock lets active amputees enjoy their life to the fullest without having to worry about blistering, sweat or odor buildup.
"What Swiftwick is offering to adaptive athletes and patients with the VALOR sock liner is something that is truly distinctive and beneficial to patients and amputees," said Kenny Wilson, president of SPS. "The VALOR provides technology which makes life a little easier for our prosthetic customers. We pride ourselves on exceeding expectations and we believe the VALOR will do just that for those who rely on us to provide the best, industry-leading products."
As a result of the partnership, the VALOR is now available in thousands of SPS clinics worldwide and online.
"By partnering with the largest O&P distributor in the world, we are able to dramatically extend our reach in the prosthetic industry," said David Fitzgerald, vice president of sales for Swiftwick. "In its more than fifty years in business, SPS has become a trusted source for prosthetic products. To have the Swiftwick VALOR liner sock among their catalogue is truly exciting."
For more information about the VALOR sock, visit https://www.swiftwick.com/valor-liner-socks-60-ctg.htm.
About Swiftwick
Founded in 2008, Swiftwick is headquartered in Brentwood, Tenn. The company is a performance sock manufacturer that proudly employs an American workforce in high-quality textile manufacturing. Swiftwick is an innovator in designing and producing superior socks. The company has a culture focused on manufacturing through environmentally friendly means, social responsibility and leading customer service. Learn more at http://www.swiftwick.com.