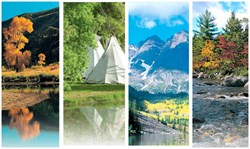 "Reclaiming tribal land is an important step towards Indian self-sufficiency and community development. Tribal land is the heart and soul of Indian identity, culture, and well being." - Gerald Sherman, ILCC President & CEO
Roscoe, MT (PRWEB) January 15, 2014
ILCC, a Native American owned and managed Native Community Development Financial Institution (NCDFI) based in Montana and the Little Traverse Bay Bands of Odawa Indians ("Tribe") recently negotiated an innovative financial agreement to help the Tribe purchase land and pursue diverse agricultural interests.
The 4,570-member Tribe will use the loan to purchase a former operating farm located adjacent to the traditional boundaries of the reservation in northern Michigan. The site, which includes 312 acres of land, a house, barn, and outbuildings, will significantly advance the Tribe's goal of promoting smaller family/community gardens near where tribal citizens live, seed gathering and collection, and tribal gardening/farming operations that are certified organic and potential revenue sources from the sale of excess production.
Land is especially significant to the Tribe that, despite numerous treaties promising both formal tribal status and Reservation land, was disenfranchised and dispossessed as a result of negligent federal policies that eventually eroded the entire tribal land base. The Tribe's federal status was reaffirmed again only in 1994. Since then the Tribe has regained 848 acres of trust land in its aboriginal homeland, including the land on which the current Odawa Casino Resort, Tribal Administrative Buildings, Odawa Fisheries, Biindigen Gas Station, and proposed Mackinaw City Project are located.
"More than half of our tribal citizens live on or near our Tribe's ancestral lands. These additional farm lands will help promote the general welfare and health of the Tribe by yielding quality foodstuffs for our people as well as a reconnection to our land," said Tribal Legislative Leader Regina Gasco Bentley. "The ILCC loan provides both financial flexibility and strong commitment to tribal sovereignty, factors critical to our Tribe and project."
ILCC provides flexible financing to strengthen Native communities and cultures through tribal land acquisition. The Native Company serves market niches underserved by traditional financial institutions, promotes community development, and provides technical support in conjunction with its financial activities. It lends on the "full faith and credit" of each individual sovereign Indian nation without requiring land to be used as collateral. Lending decisions are based on the full picture of a tribe's financial condition, borrowing track record, and ability to make loan payments, eliminating the need for much of the costly and time-consuming measures required by traditional lenders to secure land and other assets as collateral for tribal loans.
"We were impressed by the Tribe's high level of competence, commitment, and visionary leadership," said Gerald Sherman, ILCC President and CEO. "We're delighted to be partners in this exciting endeavor."
ILCC is a Native owned and managed CDFI that is certified by the CDFI Fund of the U.S. Treasury Department and provides flexible loan options to Indian nations for tribal land acquisition. ILCC has facilitated over $7 million in loans to tribes in 6 states that helped to return some 30,000 acres of land to tribal control. Gerald Sherman has served on numerous Native community boards over the years and currently serves on the board of Indian Dispute Resolution Services in Sacramento, California and the International Advisory Council for the Native Nations Institute (NNI) at the University of Arizona in Tucson, Arizona. He is currently Vice President of the board for the newly formed Native CDFI Network and President of the board of the Indian Nonprofit Alliance in Montana. More information on ILCC and Gerald Sherman can be found at http://www.ILCC.net.