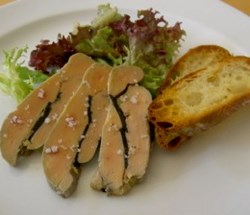 Mirepoix USA founder, Laurel Pine said, 'Black truffles are at the peak of ripeness, flavor and aroma in January and February, so it is the ideal time to enjoy them.'
Reno, NV (PRWEB) January 16, 2014
Mirepoix USA (enjoyfoiegras.com), a leading online purveyor of foie gras, caviar, truffles, Wagyu beef and other gourmet foods, is presenting a five-course Black Truffle and Foie Gras Tasting in Reno, Nevada. Mirepoix USA's Valentine's Day weekend special event will be held at Chez Louie, the recently opened restaurant and concessionaire at the Nevada Museum of Art.
Five appetizer-size courses will be served on small plates to seated guests. The black truffle and foie gras menu includes: Sea Scallop Stuffed with Black Truffle served on a bed of Braised Leeks; Chilean Sea Bass with Black Truffle Butter; Foie Gras Terrine Layered with Black Truffles and Mixed Greens with Black Truffle Vinaigrette; Mini Tournedos Rossini made with Mishima Ranch Wagyu Filet, seared Hudson Valley Foie Gras, Madera Veal Stock Reduction, and Shaved Black Truffles; and for dessert, Black Truffle and Foie Gras Ice Cream. Expertly paired French wines will be served with the courses.
Mirepoix USA founder, Laurel Pine said, "Black truffles are at the peak of ripeness, flavor and aroma in January and February, so it is the ideal time to enjoy them. We are excited to serve some of our favorite black truffle recipes at our February 15 tasting."
The Black Truffle and Foie Gras Tasting will be held at a French-inspired restaurant, Chez Louie, located in the Nevada Museum of Art, at 160 West Liberty Street, in Reno, Nevada. Chez Louie is the third restaurant in Reno to be opened by Mark Estee, Chef-owner of Reno's popular modern Italian restaurant, Campo.
Tickets to Mirepoix USA's Foie Gras Tasting and Wine Pairing Event are available for purchase on the Mirepoix USA website at http://www.enjoyfoiegras.com. Admission is $125 per person; however discounted tickets may be purchased for $95 prior to February 1, 2014. Join Mirepoix USA in Reno, Nevada, on Saturday, February 15, from 6:30 – 9 pm. For additional information, contact Laurel Pine at 866-992-9559.
Mirepoix USA sources the highest quality specialty gourmet foods and traditional French foods from manufacturers and importers across the United States. The company began marketing foie gras and other traditional French foods in 2004, and currently offers over 40 foie gras selections, fresh truffles, caviar, Wagyu and US Kobe beef, French cheeses, and a wide selection of gourmet gift baskets and gourmet food. In 2012, Mirepoix USA began offering live tasting events in the US and food and wine tours in Europe.