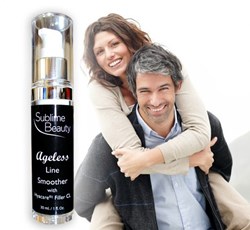 The new dermal filler, Ageless Line Smoother, is available at a 30% off discount today only from Sublime Beauty®.
St. Petersburg, FL (PRWEB) January 16, 2014
Forget needles or injections. A topical dermal filler works more naturally and less invasively to help build collagen and hyaluronic acid in the skin, reducing lines and smoothing skin.
"Our new Ageless Line Smoother with Hyacare® Filler CL also includes the natural botox, Argireline® to help relax wrinkles. It is a great anti-aging serum, and is pleasant to use twice daily," says Kathy Heshelow, founder of Sublime Beauty®.
The serum is offered 30% off today only with coupon code FILLER30 at Amazon checkout. All Sublime Beauty® products are offered through Amazon, and the company will soon launch an Amazon webstore as well.
A six page report about the special ingredients is available upon demand (info@sublime-beauty.net) and further information and clinical test photos are found on the Sublime Beauty® site.
The other Ageless products are a Rapid Skin Tightener and the Ageless Serum with Renovage® and Matrixyl®.
The dermal filler sale ends tonight at midnight.