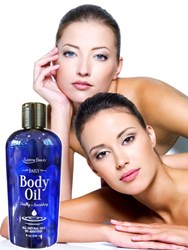 St. Petersburg, FL (PRWEB) February 21, 2014
What better time to try a healthy body oil than in the dead of winter?
Winter air dries out skin, and so does the heating in our offices and homes. Using oils are actually superior to creams, and the Sublime Beauty® Daily Body Oil has no chemicals, additives or fragrances.
"We designed this product with a chemist, and included 5 pure oils that compliment each other. It brings great benefits to the skin and your well-being," says Kathy Heshelow, founder of Sublime Beauty®.
Americans are rediscovering oils again, though they have been popular worldwide and through the centuries. Oils are stocked-full of vitamins, minerals and nutrients that can help skin immensely.
Sublime Beauty® offers a 6 page product report about the oil benefits to purchasers. The report also covers a little history and the story of oils. Skin doesn't fill sticky or greasy with this oil, that absorbs well. Customer reviews are available to read on Amazon.
The Daily Body Oil is available either on Amazon, or at the new Sublime Beauty Shop. At the new company shop, free standard shipping and a VIP Club for points benefit buyers.
"Let you skin heal, be nourished and start to glow today," says Heshelow.