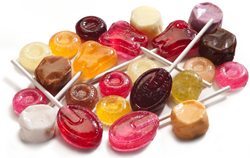 The health food market is seriously lacking sugar-free candies that are made with natural colors, flavors, and Xylitol sweetener.
Grand Rapids, MI (PRWEB) February 25, 2014
Dr. John's Candies will be an exhibitor at the 2014 Natural Products Expo West in Anaheim, CA. They will be educating attendees on the many benefits of their best-selling sugar-free natural candies in booth number 5262.
The Natural Products Expo West offers a comprehensive opportunity for attendees to learn more the natural, organic, and healthy products industry. An estimated 60,000 industry professionals attend this annual event at the Anaheim Convention Center. It has been rated as one of the top 200 trade shows in the United States by Tradeshow Week. Over 3,000 exhibitors are expected to showcase their wares in the natural products sector.
Dr. John's Candies was created by a husband and wife team. Dr. John Bruinsma, a dentist, and his wife Debra, a dental hygienist, were disappointed with the lack of sugar-free candy products on the market to recommend to their dental patients. After researching their options, they introduced Dr. John's Candies to the world at the 1995 American Dental Association's Annual Meeting. Soon after, Dr. John's Candies became one of the best-selling sugar-free candy products available to the dental market.
"We're excited to attend this expo in Anaheim. We are aware that the health food market is seriously lacking sugar-free candies that are made with natural colors, flavors, and the Xylitol sweetener used in our line of products. We certainly have a niche in the natural products industry and are looking forward to introducing our healthy treats to the audience," stated Dr. Bruinsma.
Dr. John's Candies offers many unique products for those looking to protect their oral health while still enjoying their favorite treats. They offer a line of products using natural flavors, natural colors, and the natural sweetener xylitol. This makes everything they create safe for consumers, especially those with specific dietary needs. Every product in Dr. John's Candies line is sugar-free and offers reduced calories. They are a safe option for those cutting out sugar from their diets, for diabetics, and many products are an option for those that need to avoid gluten and dairy products and for those that are looking for kosher products.
Dr. John's Candies offers the world's largest variety of Xylitol treats, the ingredient that can actually be beneficial to oral health. The Bruinsma's research has indicated that gram-specific doses of Xylitol in a daily diet can reduce the harmful cavity-producing bacterial in the mouth by increasing the production of saliva. This natural ingredient also tastes great without the aftertaste that many artificial sugar-substitutes have.
All of Dr. John's sugar-free treats including chocolates, hard and soft candies, gum, and the popular lollipops are available through the Dr. John's Candies website http://www.drjohns.com.