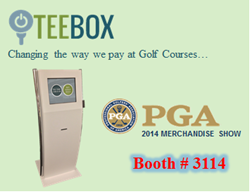 Golf TeeBox Kiosks at 2014 PGA Merchandise Show.
(PRWEB) January 17, 2014
Miami, FL: The process of checking in and paying for a round of golf is one of the few areas that has been unchanged by technology – until now. TheGrint Group is excited to demonstrate their Golf Kiosk units to the biggest players in the golf industry at the upcoming PGA Merchandise Show in Orlando, Florida. There are many benefits to automating the check in process, and TheGrint Group will be happy to show off all the ways this unit can help golf shop operators who stop by their booth at location #3114 on the show floor.
Ever since its introduction to the market, the Golf Check in Kiosks have been changing the way pro shop owners think about the check in process. Rather than sticking their employees behind a counter to take greens fees, those employees are now being put out on the shop floor to sell merchandise and assist with any customer service needs. The end result is an experience that is quicker and more convenient for the customer, while the pro shop gains the advantage of freeing up staff to upsell merchandise and other goods.
Golf TeeBox offers two kiosk models – a stand-alone unit and a desktop version – so that every shop can make room for this great new technology. The kiosks can also be integrated with Tee Sheet and POS software for an integrated solution to running the daily operation of the golf course.
The PGA Merchandise Show is one of the biggest events on the golf calendar, and TheGrint Group is pleased to be a part of the 2014 edition from January 21st – 24th in Orlando, FL. To learn more about the Golf TeeBox Check in Kiosks and what they can offer your golf business, be sure to stop by booth #3114 any some point during the show.