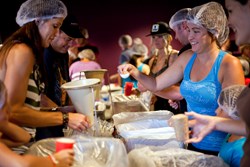 Durham, NC (PRWEB) January 16, 2014
Stop Hunger Now, Durham Technical Community College, Duke University, NC Central University, and the Rotary Clubs of Durham are joining forces in the fight against hunger. More than 700 volunteers are expected to package meals on Monday, Jan. 20, 2014, at Durham Tech's Main Campus, located 1637 Lawson Street in Durham, NC. The event, in recognition of the annual Martin Luther King, Jr. Day of Service, runs from 9 a.m.- 6:30 p.m.
Stop Hunger Now meal-packaging events are volunteer-based programs that compile highly nutritious dehydrated meals of rice, soy, vegetables, flavoring, and 21 essential vitamins and minerals. In addition to the meal-packaging event, the educational institutions and Durham Rotarians are collecting nonperishable food items for local food pantries and shelters. Items may be dropped off at Durham Tech the day of the meals packaging event. Stop Hunger Now meals packaged at the event will be distributed through in-country partner ORPHANetwork in Nicaragua.
"Durham Tech is delighted to be the host facility for this year's event," says Dr. Bill Ingram, president of the community college as well as president of the downtown Durham Rotary Club. "Our faculty, staff, and students have traditionally participated in an entire week of service events honoring Martin Luther King, Jr. This is a great way for us to partner with others in the community not only to make a larger impact, but to enjoy the fellowship of coming together in a humanitarian effort that is Dr. King's legacy."
Around the world, more than 868 million people lack adequate food, and more than 25,000 die each day from hunger-related illnesses. Stop Hunger Now operates meal-packaging locations in 18 cities throughout the US and international locations in South Africa and Malaysia. In 2013, Stop Hunger Now opened new locations in Dallas/Fort Worth, Salt Lake City, and Italy. More than 300,000 volunteers from corporations, churches, schools, and civic organizations have packaged Stop Hunger Now meals.
Founded in 1998, Stop Hunger Now has delivered aid and disaster-relief supplies in the form of food, medical supplies, clothing, school supplies, and more to thousands of disaster victims and other hungry and vulnerable people in 65 countries.
Duke University has been a higher-education partner with Stop Hunger Now since the meal-packaging program first launched. In 2009, the Durham Rotary Clubs got involved to make this an annual observance on Martin Luther King Day. Since 2009, this partnership has amassed more than 340,000 meals in five annual events. This year Durham Tech stepped up to both participate in and to host the event at the Phail Wynn, Jr. Student Services Center.
In 1994, Congress designated the Martin Luther King Jr. holiday as a national day of service. Taking place each year on the third Monday in January, the MLK Day of Service is the only federal holiday observed as a national day of service – a "day on, not a day off." Stop Hunger Now will facilitate 13 events in five different cities on Martin Luther King Day to produce more than 285,000 meals.
"What we want everyone to know is that hunger is solvable and is the common thread among the world's most challenging issues. When hunger is targeted, you give leverage and hope to every other cause, including poverty, disease, education, and the welfare of women and children," said Rod Brooks, president and CEO of Stop Hunger Now.
For more information, contact event host Carver Weaver at 919.623.7888.
In 2013 Stop Hunger Now is celebrating its 15th anniversary its ongoing work to create a movement to end hunger. More than 100,000,000 meals have been packaged and distributed with other life-saving aid to 65 countries impacting millions of lives.
The organization is driven by a vision of a world without hunger and a mission to end hunger in our lifetime by providing food and life-saving aid to the world's most vulnerable and by creating a global commitment to mobilize the necessary resources.
In its efforts to respond to emergency needs around the world Stop Hunger Now receives and distributes significant donations of in-kind aid. These donations are large quantities of food, medicines, medical supplies and other such items as may be of use in fighting hunger and providing relief in a crisis.