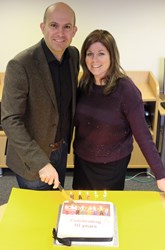 Sibling squabbles aside, I'm happy to say Lisa and I are closer than we've ever been.
(PRWEB UK) 17 January 2014
Lichfield siblings Phil Robinson and Lisa McLaren are toasting to a decade of digital marketing success, as they celebrate the tenth anniversary of ClickThrough Marketing.
Phil founded the firm on January 17, 2004, to deliver innovative SEO, PPC and content marketing services founded in best-practice principles. His sister, Lisa McLaren, was the firm's first employee – and she still works at the company today.
The company now employs 28 staff, and works with clients like Peugeot, ScottishPower, Dunelm Mill and Halfords Autocentres.
Phil said: "Ten years have flown by. But it's a big milestone, and I'm very proud.
"I've been lucky to have worked with some great clients, smart people and big characters. Not least my sister, who has been central to the ClickThrough story since the start.
"Sibling squabbles aside, I'm happy to say Lisa and I are closer than we've ever been. And I think it's down to the hard work we've both put in to this company."
Throughout its short-but-storied history, ClickThrough Marketing has remained true to its roots in Staffordshire, establishing itself as a leading out-of-London agency. The firm is still headquartered in Lichfield, and was featured in the Recommended Agency Register's Top 100 Agencies Outside London.
Lisa said: "When I stepped in to help Phil at ClickThrough, it was a two-person operation in a small office.
"As we've grown, it's been really important to us to stay true to our Staffordshire beginnings. We're really proud to be part of an industry-leading team, whilst remaining a Lichfield company through-and-through."
Phil added: "I think the secret of our success is always striving to do things better, and the building of trusted relationships with our clients in an industry where best practice is not always the norm.
"A ten-year anniversary is a great opportunity to thank all the people who have contributed to us building a great business with a fantastic bunch of people.
"Many thanks to you all – you know who you are!"
ClickThrough Marketing is a Google Partner, a member of the Internet Advertising Bureau UK, and a Kenshoo Enterprise Pro agency. It is currently ranked number one in the UK for linkbuilding on TopSEOs. (clickthrough-marketing.topseosfirms.co.uk/)
To learn more about ClickThrough Marketing and its digital marketing services, visit: http://www.clickthrough-marketing.com/.
For more information on this story, contact senior online copywriter Oliver Pyper on:
T: +44 (0)1543 412 471
E: opyper(at)clickthrough-marketing(dot)com
Notes to editors
About ClickThrough Marketing
ClickThrough Marketing is a digital marketing agency based in Lichfield, Staffordshire, UK. It provides SEO, PPC, web development and content marketing services, offering expert, honest, actionable advice and solid digital marketing strategies tied to clients' KPIs. ClickThrough is a company of experts – it invests in staff training and qualifications and develops innovative technologies to ensure the best results for clients.