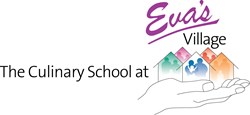 Paterson, New Jersey (PRWEB) January 20, 2014
The Culinary School at Eva's Village is a private vocational school certified by the New Jersey Department of Education and Department of Labor and Workforce Development. The school was established to provide job training and placement in the food service industry for adults interested in attaining careers in the culinary profession. The five-month course provides fundamental cookery skills appropriate to basic positions in professional food preparation. Executive Director, Marie Reger, explained that Eva's Village is establishing a culinary school for clients and members of the community at large. "The lack of employable skills prevents many of our clients and those in the community from becoming self-sufficient and acquiring affordable housing, stated Marie Reger. "The most important issue is to help people in the community improve their job skills, improve their employment prospects and improve their ability to reach places of employment."
Donna Marie Fico, Director of Marketing and Education at Eva's Village notes that a culinary school to help individuals develop job skills for careers in the food service industry has been in the planning stages for some time. "Eva's board of directors authorized the culinary program more than two years ago and we are very excited to be enrolling our first students."
For application information on The Culinary School at Eva's Village, contact: Donna Marie Fico, Director of Marketing & Education – Phone: (973) 523-6220 Ext. 230 or email Culinary(dot)School(at)evasvillage(dot)org. To support The Culinary School at Eva's Village or one of our other programs visit http://evasvillage.org/donate2.shtml.
About The Culinary School at Eva's Village:
The five-month course provides fundamental cookery skills appropriate to basic positions in professional food preparation. Four-week modules include, Introduction to Culinary Arts/Breakfast Cookery; Buffet Prep/Short Order; Garde Manger/Pantry; and, Introduction to Baking and Pastry Arts. Topics cover recipe and menu genres, culinary math, knife skills, safety and sanitation, and breakfast cooking. Students will also be coached in workplace readiness and life skills throughout the modules. As students advance through the modules they practice cooking techniques, including soup, stock, and sauce production, vegetable and starch cookery, and scratch preparation of salads and dressings. More advanced classes cover meat and seafood fabrication, and cooking techniques; Garde Manger practices; and baking and pastry cooking techniques and production. The final module includes a four-week industry externship with post-externship placement services.
About Eva's Village:
Eva's Village (http://www.evasvillage.org), originally a New Jersey soup kitchen, was founded in 1982 by Msgr. Vincent E. Puma in response to the increasing incidence of homelessness in his Paterson, NJ parish. But Msgr. Puma soon realized that a soup kitchen was not enough. With the generous support of thousands of donors and private and government grants, Eva's has grown to be the most respected anti-poverty program in New Jersey. Their mission is to feed the hungry, shelter the homeless, treat the addicted and provide medical and dental care to the poor with respect for the human dignity of each individual.