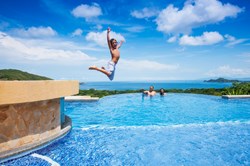 "We have managed - continues Naomi, a mother of 6 children of her own, to create a user friendly website that helps any parent to quickly plan a vacation based on other families' tested experiences, families just like them
Bergen County, NJ (PRWEB) January 20, 2014
Today, RealFamilyTrips.com, a free family-owned website that offers detailed family travel itineraries and proven travel tips for parents that travel with their kids, celebrates very shortly after opening the site to the public. The site has doubled their new visitors count and tripled new itinerary submissions in a few weeks time - what's not to like?
And here is why this is important. This shows that the travel industry, while very busy with different websites and services, has missed a key aspect of the family travel. What do you do if you go on vacation with your family, and have kids of different ages? Until today, you were spending hours online to find some activities that would fit all the family members, and hope it would work out. 
Of the company's recent fast growth, RealFamilyTrips.com founder Naomi Greenblatt said, "Seeing our user base growing so quickly is a proud moment for our team. This proves that we have discovered a solution for a problem that largely was not addressed until now."
"We have managed," continues Naomi, a mother of 6 children of her own, "to create a user friendly resource that helps any parent to quickly plan a vacation based on other families' tested experiences, families just like them, with kids ages and personal preferences accounted for." The site is a very useful tool which will allow more families to come back home feeling connected and grateful, knowing that they did not throw away money on just another trip that was not for them.
Family travelers who have a fun family itinerary can contribute as well and enter it here:http://realfamilytrips.com/share-itineraries/.
RealFamilyTrips.com is running a contest right now; families that submit qualified itineraries will be entered in a contest to win an iPad Air, a great companion for any traveling parent. Contest details are here: http://contest.realfamilytrips.com/.