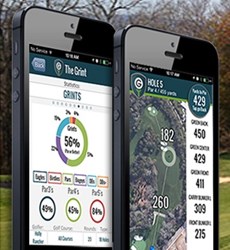 New price will be $19.99 per year for the unlimited membership
Miami, FL (PRWEB) January 23, 2014
TheGrint is a Golf GPS and Golf Handicap Tracker app and website, that has been growing quite rapidly among avid golfers. The app allows you to obtain a compliant USGA handicap, track your score while you play, see GPS distances and more. Additionally its Scorecard Picture Service is unique in the market place.
During the first year, the membership packages were very steep at $69.99 per year for the unlimited package, and $39.99 per year for the regular package.
On January 23rd, during the 2014 PGA show, the company announced that its 2013 pricing will change to one membership package only that would cost $19.99 per year. And this package will include unlimited access to all app features.
The company also announced that all current paying members have the opportunity to renew their membership at reduced prices. In fact, a special promotion is running now for reduced pricing options.
The special promotion includes a $14.99 package that gives the golfer the PRO membership with unlimited access to all features. And is also offering a limited time membership for GPS only that costs $4.99 per year.
Click here for TheGrint Special Promotion. Register first to get access to this promotion.