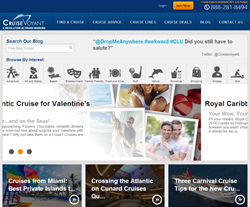 'We wanted to help consumers have access to all the latest cruise deals without having to go to each of the cruise line sites,' said Natalya Jones.
Fort Lauderdale, Florida (PRWEB) January 20, 2014
CruiseVoyant.com is excited to continue expanding their blog by now offering exclusive cruise deals, promotions and special incentives, along with continuing to feature cruise ship reviews, cruise line information and helpful advice. Their team of in-house cruise experts and guest writers research and compile the best new cruise offers and information from all of the major cruise lines in order to provide consumers with the latest cruise deals and incentives on a weekly basis.
"We're happy to see the expansion of our blog and the interest we've received in it," Elizabeth Becker, Cruise Voyant writer said. "Our goal was to give our customers information they wanted in order to get the best cruise deals and we're happy to see all the positive feedback our blog has received."
Cruise Voyant now conveniently compiles cruise deals on their blog to help consumers search cruise deals from major cruise lines in order to save time looking on different sites. The Cruise Voyant blog showcases cruise deals on many major cruise lines including Royal Caribbean International, Carnival Cruise Line, Celebrity Cruises, Disney Cruise Line, Holland America Line, Norwegian Cruise Line and Princess Cruises.
"We wanted to help consumers have access to all the latest cruise deals without having to go to each of the cruise line sites," Natalya Jones, Cruise Voyant writer, said. "By providing consumers access to all the latest deals all in one place, they will save time and money when researching their next cruise."
Examples of deals offered include their current 123go! promotion in conjunction with Celebrity Cruises and the 3-For-Free sale offered with Princess Cruises. More promotions can be found at CruiseVoyant.com/Blog.
About Cruise Voyant
Cruise Voyant is a Florida based cruise agency that is revolutionizing the cruise booking process. Cruise Voyant solves many of today's most difficult booking issues by allowing visitors to view a historic look at how pricing has changed on a particular ship and sail date. Cruise Voyant also offers interactive cruise itinerary maps, and it provides tens of thousands of photos of ships and destinations worldwide. Cruise Voyant helps consumers easily find their dream vacation by empowering them with online advice and insights that will help them easily book and manage their vacation plans.