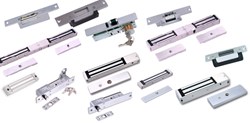 (PRWEB) January 22, 2014
SWAccessControl has drastically cut prices to all its magnetic locks already, offering affordable products to everyone in February 2014.
According to a senior engineer of SWAccessControl.com, a magnetic lock (or maglock) is a locking device that includes an electromagnet and an armature plate. The magnetic locks from SWAccessControl.com are well designed and engineered. This company is a great resource for anyone looking for high quality door lock products.
"Our magnetic locks come with a range of activation strength, from 100lbs to 1200lbs. All of them are offered at discounted prices, and the current discount is up to 23% off." A sales manager of the company says, "The big discounts are not there every day. Please visit our website now for more new products. In addition, all the products are in stock and ready to ship."
SWAccessControl.com's products include fingerprint access control systems, RFID access control systems, proximity card readers, magnetic locks, electric bolts, access control power supplies and more. The company's superior ability of R&D enables it to offer the highest quality and most reliable access control systems currently available on the market.
About SWAccessControl.com
SWAccessControl.com is a leading access control system manufacturer and supplier from Shenzhen, China. The company aims to provide the best quality products at reasonable prices for its clients around the world. Great customer service, fast delivery, and aggressive prices, are the factors to choose SWAccessControl. For more details of the company and its products, please visit: http://www.swaccesscontrol.com/?content/product/category/8/index.html