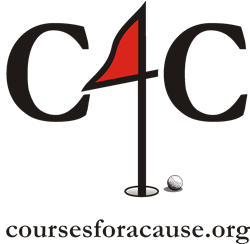 By partnering with Courses for a Cause, facilities can choose their own charity or charities, and the funds raised are donated on their behalf.
Orlando, FL (PRWEB) January 20, 2014
Courses for a Cause is a new 501(c)(3) charitable organization based in Orlando, FL. Through the generosity and partnership of golf facilities nationwide, they will auction off and sell donated rounds of golf to benefit local and national nonprofits.
From their website coursesforacause.org, golfers can bid on or buy rounds of golf at private, public, and resort facilities. As a result, golfers will be able to play some of the most exclusive golf courses that normally may not be accessible unless the player was a member or a member's guest.
Courses for a Cause plans to help several national charities, but also give golf courses a chance to help their charities of choice in their local community. For as little as one foursome a month, golf facilities can make a major difference in the lives of others in need.
According to the President and Co-Founder Jeffrey Salka, "Several general managers and golf professionals already donate upwards of 20 to 30 foursome rounds a year and get little to no recognition. By partnering with Courses for a Cause, facilities can choose their own charity or charities, and the funds raised are donated on their behalf." Salka also went on to say that participating partners, based on their level of participation, will also receive the following benefits: a spot on the website recognizing them as a birdie, eagle or double eagle partner, leader board recognition, newsletters, partner promotional packet, appreciation gift, donation data, photos, and featured stories to name a few.
Mike Peterson, Executive Director, Co-Founder, and former PGA Professional says, "I know firsthand how much time, effort, and preparation goes into running a successful golf tournament, but with our organization you have the opportunity to raise just as much or more money by squeezing in a foursome or two a month over the course of a year instead of blocking out the golf course for a day and upsetting your members and guests."
Peterson concluded with, "When I was a PGA professional, we donated lots of rounds of golf to many organizations in hopes that they would raise lots of money, but in reality we never knew where the golf rounds went or what good we did for those people in need."
Courses for a Cause vows that they will be the voice of the golf courses and help them get the recognition they deserve for being so generous. Giving back to the golf courses is something they plan to do as well by having qualified golfers at those facilities that would have the means to buy merchandise, food & beverages, and may want to become a member and join their club.
The first course auction is already underway. The private Bayou Club in Largo, FL, has donated twelve foursomes of golf for 2014. The beneficiary of this inaugural auction is Special Operations Warrior Foundation, based in Tampa.
Courses for a Cause are dedicated to their motto "helping others meet their needs one round at a time." Find out more and start bidding at coursesforacause.org.