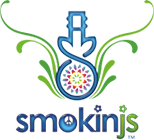 (PRWEB) January 20, 2014
Pioneered in 1997, SmokinJs is the oldest alternative pipe and tobacco shop located in Southwest Washington. Featuring over 2,000 products, SmokinJs proudly carries something for every member of the family. Focused on providing shoppers with one-of-a-kind customer service, high quality products and unbeatable prices, SmokinJs is a guaranteed gold mine. Customers are sure to return again and again to this one-stop-shop for all necessary counterculture essentials.
SmokinJs takes immense pride in cultivating relationships with local glass blowers in the Pacific Northwest, ensuring consumers that all products are home grown and home blown. Placing spiritual emphasis on the karma of each of its pipes, SmokinJs was founded upon the principle that personal bonds can strongly enhance the karmic value of a product. The website provides artists with a venue to showcase their talent, be it in customized torches, beautifully blown glass or unique fashion accessories. Whether it's magnificent pipes, home décor or pipe accessories, SmokinJs wants its beloved customers to know that all SmokinJs products have travelled through the hands of good people.
Having just opened up its fourth retail store in Olympia, Washington, SmokinJs places great emphasis on treating its online business as if it were another physical retail store location. Every item found on the SmokinJs website is "in stock" and ready to ship. As far as contacting SmokinJs is concerned, there are no bells and whistles and absolutely no circumnavigating to find numbers. Around the clock, Smokin' Jay himself happily responds to phone calls and emails that are sent to the web store's inbox.
This alternative pipe and tobacco shop sets itself apart from other competitors located in Southwest Washington by way of its incredibly unique and consumer-driven services. SmokinJs' offers one-of-a-kind commemoration pipes that are hand-blown by Portland- based artist Scott Sherrell. By purchasing this work of art, customers can be closer than ever to a deceased loved one -- now transformed into a brilliant glass commemoration pipe. These pipes have created a gateway for customers to always keep deceased loved ones close both physically and spiritually.
Each and every order is complimented with free goodies, ranging from rolling papers to glass pipes and from pipe accessories to glass screens. From first of the month product giveaways, to color customizable options on pipes -- customers are always guaranteed to be fully satisfied when receiving a SmokinJs packages in the mail.